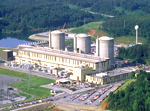 Status of Initial License Renewal Applications and Industry Initiatives
On this page:
Plant Applications for License Renewal
Applications Currently Under Review:
Plant Name and Unit(s)
Application Received
There are currently no applications for license renewal under review

Completed Applications:
(Includes application, review schedule, supplemental environmental impact statement, and safety evaluation report.)
* Fort Calhoun Station was permanently shut down on October 24, 2016.
** Kewaunee Power Station was permanently shut down on May 7, 2013.
*** Vermont Yankee Nuclear Power Station was permanently shut down on December 29, 2014.
**** The Crystal River Nuclear Generating Plant, Unit 3 application was withdrawn by the licensee on February 6, 2013. The facility was permanently shut down on February 20, 2013.
***** The Diablo Canyon 1 & 2 license renewal application was withdrawn by the licensee on March 7, 2018. The two units will continue operating until their current operating licenses expire (November 2, 2024, for Unit 1, and August 20, 2025, for Unit 2.)
****** Oyster Creek Nuclear Generating Station was permanently shut down on September 7, 2018.
+++ Pilgrim 1 permanently shut down on May 31, 2019

This page includes links to files in non-HTML format. See Plugins, Viewers, and Other Tools for more information.
Future Submittals of Applications:
*via letter dated November 27, 2018 (ML18331A155) FENOC indicated that with the planned shutdown of Perry they no longer plan to submit a license renewal application

Industry Activities
Nuclear Energy Institute (NEI) -- Industry representatives also participate in working groups and technical committees, coordinated by the Nuclear Energy Institute, to address generic technical and process issues, and to develop additional guidance related to scoping and aging management programs. The NRC has established a formal feedback process by which the resolution of the generic renewal issues and lessons learned during the review of the initial renewal applications is documented and included in revisions to the implementation guidance. These activities are expected to improve the efficiency and effectiveness of future license renewal reviews.

Subscribe to License Renewal Correspondence for a Specific Plant
To subscribe to all outgoing public correspondence for a specific license renewal application by e-mail, simply go to our Operating Reactors Correspondence page enter your email address, name, select the plant(s) of interest and Subscribe. This correspondence will include all publicly available information for a specific plant.

Page Last Reviewed/Updated Tuesday, March 03, 2020
Home
About Us
Popular Documents
Stay Connected