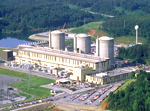 Status of Subsequent License Renewal Applications
On this page:
Introduction
The Nuclear Regulatory Commission (NRC) staff has defined subsequent license renewal (SLR) to be the period of extended operation from 60 years to 80 years. The Generic Aging Lessons Learned for Subsequent License Renewal (GALL-SLR) Report is the NRC staff's generic evaluation of plant aging management programs and provides guidance for SLR applicants. The GALL-SLR Report establishes the technical basis for the adequacy of applicant aging management programs that are found to be consistent with its guidance.
The Standard Review Plan for Review of Subsequent License Renewal Applications for Nuclear Power Plants (SRP-SLR) provides guidance to NRC staff reviewers in the review of a subsequent license renewal application (SLRA). The SRP-SLR assists reviewers in verifying that the applicant has met the requirements of Title 10 of the Code of Federal Regulations (10 CFR) Part 54, "Requirements for Renewal of Operating Licenses for Nuclear Power Plants." The SRP-SLR ensures the quality and uniformity of NRC staff reviews and establishes a well-defined base from which to evaluate applicant programs and activities for the subsequent period of extended operation.
The GALL-SLR Report and SRP-SLR were issued as NUREG-2192 and NUREG-2191, respectively, in July 2017.
Applications Currently Under Review:

Completed Applications
Plant Name and Unit(s)
Application Received
Renewed License Issued
Date Entering Subsequent Period of Extended Operation
Turkey Point Units 3 and 4
01/31/18
12/04/19
07/19/32 (Unit 3)
04/10/33 (Unit 4)
Peach Bottom Units 2 and 3
07/10/18
03/05/20
08/08/33 (Unit 2)
07/02/34 (Unit 3)

Future Submittals of Applications
Fiscal Year
No.
License Renewal Application
Applicant
Letter of Intent
(ADAMS Accession No.)
Submission Date
2021
2
Unnamed (proprietary)
Unnamed (proprietary)
ML20055C932
Oct. – Dec. 2020
2022
3
Oconee Nuclear Station, Units 1, 2, and 3
Duke Energy Carolinas, LLC
ML19267A026
Oct. – Dec. 2021
Subscribe to License Renewal Correspondence for a Specific Plant
To subscribe to all outgoing public correspondence for a specific license renewal application by e-mail, simply go to our Operating Reactors Correspondence page enter your email address, name, select the plant(s) of interest and Subscribe. This correspondence will include all publicly available information for a specific plant.

Page Last Reviewed/Updated Wednesday, September 02, 2020
Home
About Us
Popular Documents
Stay Connected