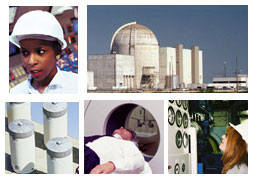 License Fees
The U.S. Nuclear Regulatory Commission (NRC) is statutorily required to recover most of its budget authority through fees assessed to applicants for an NRC license and to holders of NRC licenses.
This page provides NRC applicants and licensees an electronic means to gain access to the rules and regulations governing the assessment and collection of fees, and the forms used in processing payments from licensees.  For detail, see the following topics on this page:
Frequently Asked Questions

Legislation
The Omnibus Budget Reconciliation Act of 1990, as amended, requires the NRC to recover through fees approximately 90 percent of its current fiscal year budget authority, not including amounts appropriated from the Nuclear Waste Fund, amounts appropriated for Waste Incidental to Reprocessing, and amounts appropriated for generic homeland security activities.

Regulations
The fees are assessed in accordance with two parts of the NRC's regulations in Title 10 of the Code of Federal Regulations:
For sections applicable to specific licenses, see the licensing pages for Nuclear Reactors, Nuclear Materials, and Radioactive Waste.

Fee Rule
The links below provide information for the proposed and final Federal Register Notices and their supporting workpapers.

eBilling
The NRC electronic billing (eBilling) system is a web-based application available for use by our Licensees.  eBilling provides Licensees with immediate delivery of NRC invoices, customizable email notifications, the capability to view and analyze invoice details, and the convenience to access Treasury systems to pay invoices.  Licensees interested in signing up for eBilling are asked to use the link below to access the eBilling Marketing Brochure. The brochure contains sign-up instructions along with eBilling screenshots and available functionality.  Licensees that are existing eBilling users may conveniently access the eBilling system by selecting the log-in link below.

Program Information
The Office of the Chief Financial Officer (OCFO) is responsible for the NRC's license fee policy and implementation functions.  Within the OCFO, the Division of Budget is responsible for recommending fee policy changes, annually publishing the schedule of license and annual fees (10 CFR Parts 170 and 171), and handling correspondence concerning fee exemption requests under §§ 170.11 and 171.11.
The Division of the Comptroller, OCFO, is responsible for implementing license fee regulations (10 CFR Parts 170 and 171), including issuing invoices, collecting fees, and processing small-entity license fee certifications.  The Division is also responsible for debt collection and referral of delinquent debt to the Department of Treasury, and for formulating policies and procedures for debt collection activities including maintaining 10 CFR Part 15, Debt Collection.

Annual Small Entity Certification
Licensees who meet the NRC's size standards for a small entity (listed in 10 CFR 2.810) must submit a completed NRC Form 526, "Certification of Small Entity Status for the Purposes of Annual Fees Imposed Under 10 CFR Part 171," to qualify for the reduced annual fee. Please see the NRC's Small Entity Compliance Guide, the instructions included with NRC Form 526, and the Frequently Asked Questions section for additional information.

Forms

Methods of Payment
Please carefully read the TERMS AND CONDITIONS included with your invoice.  Payment can be made by one of the following methods:
EDI/ACH:  the NRC can accept electronic payments using electronic data interchange (EDI) through the Automated Clearinghouse (ACH) Network.  To pay by ACH, you may obtain a copy of NRC Form 628, FINANCIAL EDI AUTHORIZATION, by calling the Accounts Receivable Help Desk at (301) 415-7554.  If you have any questions about EDI/ACH payments, please contact our depositary bank, U.S. Treasury, at 202-874-7026.

Fedwire/TFCS:  To send a Fedwire through a Federal Reserve Bank for credit to our account at the U.S. Treasury, see the section entitled, "PROCEDURES FOR ELECTRONIC FUNDS TRANSFER," which can be found on the second page of the "TERMS AND CONDITIONS" link.

Credit Card:  The NRC can accept credit card applications for payment of annual fees.  An authorization form is enclosed with each invoice, or a copy may be downloaded by clicking this link: NRC Form 629.  Complete and mail the authorization form to our lockbox bank:

U.S. Nuclear Regulatory Commission
Accounts Receivable
P.O. Box 979051
St. Louis, MO  63197-9000

Check:  Make checks payable to The U.S. Nuclear Regulatory Commission and send to our lockbox at the address above.  NOTE:Since the payment address is a post office lockbox for the bank, only regular mail or U.S. Postal Service Express Mail can be accepted.

Federal Express/Overnight Delivery Send To:
U.S. Nuclear Regulatory Commission
U.S. Bank Government Lockbox
SL-MO-C2GL
1005 Convention Plaza
St. Louis, MO  63101
Notice to Customers Making Payment by Check
When you provide a check as payment, you authorize us either to use information from your check to make a one-time electronic fund transfer from your account or to process the payment as a check transaction.
Privacy Act – A Privacy Act Statement required by 5 U.S.C. § 552a(e)(3) stating our authority for soliciting and collecting the information from your check, and explaining the purposes and routine uses which will be made of your check information, is available from our internet site at (http://www.fms.treas.gov/otcnet/index.html), or call toll free at (1-866-945-7920) to obtain a copy by mail. Furnishing the check information is voluntary, but a decision not to do so may require you to make payment by some other method.

Contacts
For the Following Activities:
EDI, ACH, Credit Cards, or Lockbox Receipts
Fedwire Receipts
Fingerprint Collection
Contact the NRC's Collection Service Provider, the U.S. Department of the Treasury, Bureau of the Fiscal Service (Treasury):
Email:  nrc@fiscal.treasury.gov
Telephone:  301-415-7554
For Small Entity Certification Questions:
Email: SmallEntity.Resource@nrc.gov
For Other Questions Regarding License Fees or Your Invoice:
Contact the Accounts Receivable License Fee Help Desk:
Email: fees.resource@nrc.gov
Telephone:  301-415-7554
To assist us in providing a prompt response, please include your license number, docket number, invoice number, if applicable, and a daytime number (including the area code) where you can be reached.
To Contact Us by Mail:
U.S. Nuclear Regulatory Commission
Office of the Chief Financial Officer
Division of the Comptroller
Labor Administration and Fee Billing Branch
Mail Stop T9 B50
Washington, DC  20555-0001
For Questions Regarding Your NRC License or Application for a License:
Contact the appropriate NRC Regional Office:
Region I
CT, DC, DE, MA, MD, ME, NH, NJ, NY, PA, RI, VT
Region II
AL, FL, GA, KY, MS, NC, PR, SC, TN, VA, VI, WV
Region III
IA, IL, IN, MI, MN, MO, OH, WI
Region IV
AK, AR, AZ, CA, CO, GUAM, HI, ID, KS, LA, MT, ND, NE, NM, NV, OK, OR, SD, TX, UT, WA, WY

Page Last Reviewed/Updated Wednesday, September 30, 2020
Home
About Us
Popular Documents
Stay Connected