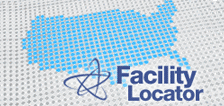 Locate Now » a facility near you.
NRC Commissioner Annie Caputo tours the Byron nuclear power plant in Illinois and takes the opportunity to question Greg Gugle, …

more…

NRC Executive Director of Operations Margie Doane (far right) tours the two nuclear units under construction at the Vogtle site near Waynesboro, Ga., …

more…

NRC Chairman Kristine Svinicki, Commissioners and agency staff, along with the Federal Energy Regulatory Commission, met to discuss grid …

more…

U.S. Senator Ben Cardin (D-Md.), following questions from staffers during a town hall-style discussion at NRC headquarters, …

more…
Spotlight

No Commission Webcasts currently scheduled.
Reports Associated with Events


Search and view NRC's public documents


NRC Approach to Open/Digital Government


Invoices available On-Line


Information for Students and Teachers


Know what to do


Agency Data at a Glance

Home
About Us
Popular Documents