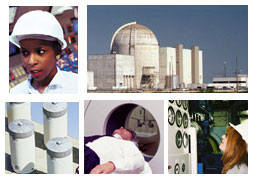 Values
The U.S. Nuclear Regulatory Commission's (NRC) vision is to "Demonstrate the Principles of Good Regulation (independence, openness, efficiency, clarity, and reliability) in performing our mission." The agency puts these principles into practice with effective, realistic, and timely regulatory actions, consistent with our organizational values and our open, collaborative work environment. For additional details, see the following topics on this page:
Principles of Good Regulation
As a responsible regulator with a very important safety and security mission, our values guide us in maintaining certain principles in the way we carry out our regulatory activities. These principles focus us on ensuring safety and security while appropriately balancing the interests of the NRC's stakeholders, including the public and licensees. The following table briefly describes these principles.
| | |
| --- | --- |
| Independence: | Nothing but the highest possible standards of ethical performance and professionalism should influence regulation. However, independence does not imply isolation. All available facts and opinions must be sought openly from licensees and other interested members of the public. The many and possibly conflicting public interests involved must be considered. Final decisions must be based on objective, unbiased assessments of all information, and must be documented with reasons explicitly stated. |
| Openness: | Nuclear regulation is the public's business, and it must be transacted publicly and candidly. The public must be informed about and have the opportunity to participate in the regulatory processes as required by law. Open channels of communication must be maintained with Congress, other government agencies, licensees, and the public, as well as with the international nuclear community. |
| Efficiency: | The American taxpayer, the rate-paying consumer, and licensees are all entitled to the best possible management and administration of regulatory activities. The highest technical and managerial competence is required, and must be a constant agency goal. NRC must establish means to evaluate and continually upgrade its regulatory capabilities. Regulatory activities should be consistent with the degree of risk reduction they achieve. Where several effective alternatives are available, the option which minimizes the use of resources should be adopted. Regulatory decisions should be made without undue delay. |
| Clarity: | Regulations should be coherent, logical, and practical. There should be a clear nexus between regulations and agency goals and objectives whether explicitly or implicitly stated. Agency positions should be readily understood and easily applied. |
| Reliability: | Regulations should be based on the best available knowledge from research and operational experience. Systems interactions, technological uncertainties, and the diversity of licensees and regulatory activities must all be taken into account so that risks are maintained at an acceptably low level. Once established, regulation should be perceived to be reliable and not unjustifiably in a state of transition. Regulatory actions should always be fully consistent with written regulations and should be promptly, fairly, and decisively administered so as to lend stability to the nuclear operational and planning processes. |

NRC Organizational Values
In conducting all our work, we at the NRC adhere to the following organizational values. These values guide every action we take — from decisions on safety, security, and environmental issues; to how we perform administrative tasks; to how we interact with our fellow employees and other stakeholders. Our employees share their personal perspectives on the importance of these values in a 9-minute video (Flash/Mobile/HTML5 | Windows Media), entitled Living the NRC Values, and the accompanying transcript.
Integrity
…in our working relationships, practices and decisions
…trustworthy, reliable, ethical, unbiased
Service
…to the public, and others who are affected by our work
…responsive, accountable, proactive
Openness
…in communications and decision-making
…transparent, forthright
Commitment
…to public health and safety, security and the environment
…dedicated, diligent, vigilant

Cooperation
…in the planning, management, and performance of agency work
…helpful, sharing, team-oriented, engaged
Excellence
…in our individual and collective actions
…high quality, continuously improving, self-aware
Respect
…for individuals' diversity, roles, beliefs, viewpoints, and work-life balance
…professional, courteous, objective, compassionate

Open, Collaborative Work Environment
The NRC strives to establish and maintain an open collaborative work environment (OCWE) that encourages all employees and contractors to promptly speak up and share concerns and differing views without fear of negative consequences. An OCWE is a model workplace where diverse views, alternative approaches, critical thinking, collaborative problem solving, unbiased evaluations, and honest feedback are encouraged, recognized, and valued. Trust, respect, and open communication promote a positive work environment that maximizes the potential of all individuals and improves our regulatory decisionmaking.
NRC employees understand that everyone has a role in safety and that we are all responsible for promoting a strong safety culture and achieving our mission.
In reaching this goal, we must collectively act as a team and individually behave as NRC Team Players. In some organizations, being a "team player" means accepting management's views during the decisionmaking process and not "rocking the boat." Being an NRC Team Player does not mean those things. NRC holds its employees to a higher standard of involvement and responsibility for the decisions that are made. We expect all our employees "to get in the game" and routinely engage in informal discussions on issues with their coworkers and supervisors.
In addition to informal discussions, which should be sufficient to resolve most issues, individuals have various mechanisms for expressing and having their differing views heard by decision-makers.

Open Door Policy
The NRC has an Open Door Policy that supports and allows any employee to initiate a meeting with an NRC manager or supervisor, including a Commissioner or the Chairman of the NRC, to discuss any matter of concern to the employee.
Non-Concurrence Process
Employees may choose not to concur on any part of a document in which he or she has disagreed. In addition, employees may choose to use the Non-Concurrence Process and not concur on any part of a document undergoing review in which he or she has disagreed. The process allows employees to document their concerns early in the decisionmaking process, have their concerns responded to, and attach them to proposed staff positions or other documents to be forwarded with the position as it moves through the management approval chain.
Differing Professional Opinion Program
The Differing Professional Opinion Program is a formal process that allows employees and contractors to have their differing views on established, mission-related issues considered by the highest level managers in their organizations, i.e., Office Directors and Regional Administrators. The process also provides managers with an independent, three-person review of the issue (one person chosen by the employee). After a decision is issued to an employee, he or she may appeal the decision to the Executive Director for Operations.

Page Last Reviewed/Updated Friday, April 19, 2019
Home
About Us
Popular Documents
Stay Connected