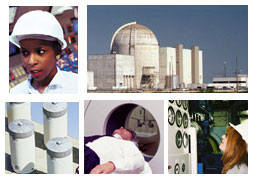 Rulemaking
Regulatory Agenda (NUREG-0936) - A semiannual compilation of all rules on which the NRC has recently completed action, has proposed action, or is considered action and a summary of all pending petitions for rulemaking.

Unified Agenda and Regulatory Plan - the Unified Agenda and Regulatory Plan (also known as the Semiannual Regulatory Agenda), is published twice a year in the Federal Register, and summarizes the rules and proposed rules that each Federal agency expects to issue during the next year.
NRC's regulations, sometimes called rules, impose requirements that licensees must meet to obtain or retain a license or certificate to use nuclear materials or operate a nuclear facility. These regulations govern the transportation of materials; the use of materials at such nuclear facilities as power plants, research reactors, uranium mills, fuel facilities, and waste repositories; and the use of materials for medical, industrial, and academic purposes. The process of developing regulations is called rulemaking.
For more information about NRC's regulations and the rulemaking process see the following:
Page Last Reviewed/Updated Tuesday, August 09, 2016