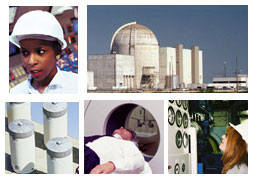 The Rulemaking Process
The process of developing regulations is called rulemaking. The NRC initiates a new rule or a change to an existing rule when there is a need to do so to protect the public health and safety. Additionally, any member of the public may petition the NRC to develop, change, or rescind a rule. The Commission directs staff to begin work on a new rulemaking activity through approval of a staff rulemaking plan.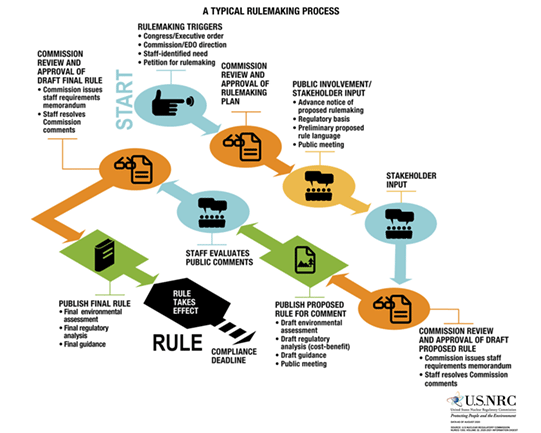 Proposed Rules

NRC regulations (rules) provide licensees with requirements that, if met, will result in adequate protection of workers, the public, and the environment. The impetus for a proposed rule could be a direction from the Commission to the NRC staff or a petition for rulemaking submitted by a member of the public.

Each proposed rule that involves significant matters of policy is sent to the NRC Commission for approval. If approved, the proposed rule is published in the Federal Register and usually contains (1) the background information about the proposed rule, (2) an address for submitting comments, (3) the date by which comments should be received in order to ensure consideration by the staff, (4) an explanation indicating why the rule change is thought to be needed, and (5) the proposed text to be changed. Usually, the public is given 75 to 90 days to provide written comments.

Not all rules are issued for public comment. Generally, those excepted from public comment deal with agency organization, procedure, or practice; are interpretive rules (e.g., guidance interpreting current regulations); or are rules for which delaying their publication to receive comments would be contrary to public interest and impracticable. (See Section 553, "Rulemaking" of the Administrative Procedures Act.)

Final Rules

Once the public comment period has closed, the staff analyzes the comments, makes any needed changes, and prepares a draft final rule for Commission approval. Once approved, the final rule is published in the Federal Register and usually becomes effective 30 days later.

Direct Final Rulemakings


When appropriate, NRC can shorten the traditional rulemaking process by using a 'direct final' rulemaking process. This process is only used for regulatory changes that the NRC believes are noncontroversial.

For more information, see Direct Final Rulemakings.

Advance Notice of Proposed Rulemakings


For especially important or complex rules, the NRC may publish an Advance Notice of Proposed Rulemaking (ANPR) and conduct one or more public meetings. The ANPR requests public comment well in advance of the proposed rulemaking stage. The need for some action is described, but only broad concepts are discussed for a proposed action.
Page Last Reviewed/Updated Thursday, July 02, 2020
Home
About Us
Popular Documents
Stay Connected