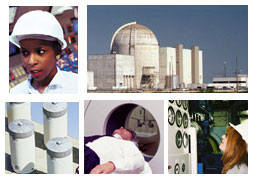 Regulatory Analysis
A regulatory analysis is a formal analysis of a proposed government agency requirement, including estimates of benefits and costs that are quantified to the fullest extent possible. The NRC uses regulatory analyses to consider preferred alternatives from the potential courses of action studied. A regulatory analysis contains estimates of benefits and costs with a conclusion as to whether the proposed regulatory action is cost beneficial and documents the analysis in an organized and understandable format.
A regulatory analysis is performed to support many actions that affect reactor and materials licensees, and is required by NRC policy when an NRC action is expected to impact industry resources. In general, the NRC ensures that all mechanisms used to establish or communicate generic requirements, guidance, and requests or staff positions that would effect a change in the use of resources by its licensees include an accompanying regulatory analysis. These mechanisms include rules, bulletins, generic letters, regulatory guides, orders, standard review plans, branch technical positions, and standard technical specifications. Regulatory analyses are used to comply with Office of Management and Budget guidance and executive orders and as a decision tool for policy makers by providing a rationale for action and transparency for agency decision-making.
There are three primary documents that the NRC follows when performing regulatory analyses; they are discussed below:
References:
Regulatory Analysis Guidelines of the U.S. Nuclear Regulatory Commission

NUREG/BR-0058 "Regulatory Analysis Guidelines of the U.S. Nuclear Regulatory Commission," provides detailed information on the circumstances when regulatory analysis is required at the NRC and the process and components of an effective regulatory analysis.

The Rulemaking Process

Management Directive 6.3, "The Rulemaking Process," details the rulemaking process for NRC employees, and describes where and how the regulatory analysis integrates with rulemaking.

Executive Order 12866

Executive Order 12866 contains principles of regulation, and the elements of a cost-benefit analysis that are relevant to regulatory analysis.  The NRC, while not bound to Executive Order 12866, as an independent agency, voluntarily complies with certain requirements in the executive order.

Page Last Reviewed/Updated Thursday, July 02, 2020
Home
About Us
Popular Documents
Stay Connected