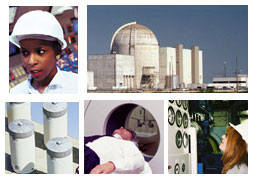 Organization & Functions
The NRC is headed by a five-member Commission. The President designates one member to serve as Chairman and official spokesperson. The Commission as a whole formulates policies and regulations governing nuclear reactor and materials safety, issues orders to licensees, and adjudicates legal matters brought before it. The Executive Director for Operations (EDO) carries out the policies and decisions of the Commission and directs the activities of the program offices.
The offices reporting to the EDO ensure that the commercial use of nuclear materials in the United States is safely conducted. As part of the regulatory process, the four regional offices conduct inspection, enforcement, and emergency response programs for licensees within their borders.
The NRC has an annual budget of about $1 billion and employs about 4,000 people located in five primary locations in the United States.
Functional Descriptions
See also the organization chart.
Committees and Boards




Commission Staff Offices




EDO Offices

Inspector General
Page Last Reviewed/Updated Friday, October 11, 2019
Home
About Us
Popular Documents
Stay Connected