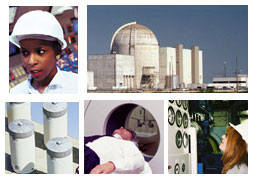 Atomic Safety and Licensing Board Panel
On this page:
Atomic Safety and Licensing Board Panel
Chief Administrative Judge (Chairman): E. Roy Hawkens
Associate Chief Administrative Judge (Legal): Paul S. Ryerson
Associate Chief Administrative Judge (Technical): Sue H. Abreu
Conducts hearings for the Commission and performs such other regulatory functions as the Commission authorizes. The Chief Administrative Judge develops and applies procedures governing the activities of boards and administrative judges, and makes appropriate recommendations to the Commission concerning the rules governing the conduct of hearings.

---
The Panel
ASLBP Members – Biographical Descriptions
The Panel conducts all licensing and other hearings as directed by the Commission, primarily through individual Atomic Safety and Licensing Boards or single presiding officers appointed by either the Commission or the Chief Administrative Judge. The Panel, which has no fixed number of positions, is composed of administrative judges (full-time and part-time) who are lawyers, engineers, and scientists. Administrative judges serve as single presiding officers or on three-member boards, which generally are chaired by a lawyer, for a broad range of proceedings.
The Panel's judges are employees of the NRC whose decisions are subject to Commission review.  However, the Administrative Procedure Act, as well as longstanding agency policy, grants them independence from the Commission. The agency's ex parte and separation of functions rules dictate that the ASLBP and its members remain at arm's length from the litigants, including the NRC staff, to avoid an actual or perceived conflict of interest.
When Congress enacted the Atomic Energy Act, it expected that the Panel's technical judges would be "persons of recognized caliber and stature in the nuclear field." In addition, both legal and technical judges are subject to the conflict of interest laws and regulations applicable to Federal employees and the high ethical standards for Federal judges. They, along with their spouses and minor children, are prohibited from owning any securities issued by nuclear utilities and key components of the nuclear industry. All full-time judges have no employment relationships with any nuclear entity regulated by the NRC. Some part-time technical judges maintain their expertise by working on grants and assignments concerning the study and implementation of cutting-edge science and technology. Some grants and assignments may involve the Department of Energy and participants in the nuclear industry. However, no part-time judge participates in any proceeding that could affect the interests of any party funding the judge's activities. The impartiality of judges is further ensured through a multi-layered screening mechanism that identifies any instance in which a judge's participation in a case would involve a conflict of interest or could raise a question about a judge's impartiality.

Chief Counsel
Emily Krause
Provides legal support to the Chief Administrative Judge, administrative judges, and licensing boards; oversees the Panel's law clerks and manages the Panel's Judicial Law Clerk Program.

Adjudicatory Support and Technology Staff
Director: Ramona Bouling
Provides a variety of administrative support to the Panel in many areas, including budget, contracts, personnel, logistics, and information management. Also manages court reporting services contract for all agency offices.

Page Last Reviewed/Updated Monday, April 27, 2020
Home
About Us
Popular Documents
Stay Connected