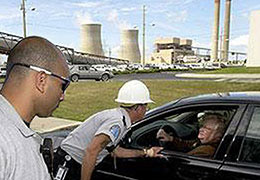 Required Reporting for Clearance Holders
This webpage provides information to U. S. Nuclear Regulatory Commission (NRC) employees and NRC contractors as well as licensees, licensee contractors and others who hold national security clearances issued by the NRC.
On this page:
What is Security Executive Agent Directive (SEAD) 3?
Security Executive Agent Directive (SEAD) 3 is an executive security directive issued by the Office of the Director of National Intelligence (ODNI) in December 2016.  It is applicable to all executive branch agencies and covered individuals.
SEAD 3 is designed to strengthen the safeguarding of national security equities. SEAD 3 establishes the reporting requirements for covered individuals who have access to classified information or hold a sensitive position.
These reporting requirements are generally consistent with the elements included in the Standard Form-86, "Questionnaire for National Security Positions", which is completed by applicants and clearance holders during the initial and periodic reinvestigation processes, respectively. Additionally, SEAD 3 now requires these elements to be reported by covered individuals prior to participation in certain activities, or as soon as possible following the start of their involvement if prior reporting is not possible.
Most notably, SEAD 3 requires covered individuals to obtain prior agency approval before conducting unofficial foreign travel.  This is a new reporting requirement for most covered individuals.
View the Security Executive Agent Directive 3.

Why Reporting is Important
Covered individuals should be aware that they hold valuable sensitive information which foreign intelligence agencies, adversaries, competitors and terrorists in the US and abroad may try to obtain.  Therefore, covered individuals have a continuing security obligation to be aware of the risks associated with foreign intelligence operations and/or possible terrorist activities directed against them in the U.S. and abroad.  This sensitive information includes, but is not limited to:
Classified or sensitive information vital to national and economic security
Emerging technologies and pioneering research and development
Information relating to critical infrastructure sectors
Proprietary secrets
Security or counterintelligence information
Covered individuals also have a continuing obligation and responsibility for recognizing, avoiding, and reporting personal behaviors of a potential security, counterintelligence, and or insider threat concern.  This includes not only self-reporting but reporting the behaviors of others with access to classified information or who hold a sensitive position.

Who SEAD 3 Applies to
SEAD 3 applies to all covered individuals that have access to classified information or who hold a sensitive position.  With respect to the NRC, this includes NRC employees and cleared contractors as well as licensees, licensee personnel, licensee contractors and other entities that hold a security clearance from the NRC. 

SEAD 3 Reporting Requirements
SEAD 3 establishes the following reporting requirements.  The NRC is in the process of developing reporting procedures and guidance to implement these requirements.
Unofficial Foreign Travel:
Prior to foreign travel, submit a complete, detailed itinerary of unofficial travel.
Receive agency approval prior to the unofficial foreign travel. 
Report all deviations from their approved itinerary within five business days of return.
Report emergency travel verbally prior to travel and complete a full report within five days of return in accordance with agency guidance.
Report unplanned day trips to Canada or Mexico within five days of return.
Note: Travel to Puerto Rico, Guam, and other U.S. possessions and territories is not considered foreign travel and does not need to be reported unless a reportable event occurred during the trip.
Unofficial Foreign Contacts:
Contact with a known or suspected foreign intelligence entity.
Continuing association with known foreign nationals that involve bonds of affection, personal obligation, or intimate contact; or any contact that involves the exchange of personal information. This requirement applies regardless of where or how the contact was made (personal contact, Internet, etc.).
After initial reporting, provide updates in significant changes in the nature of the contact regarding continuing unofficial association.
Note: Individuals are still responsible for reporting suspicious interactions, activity or unexpected events when traveling or meeting foreign nationals for official business.
Actions by Others:
An unwillingness to comply with rules, regulations, or security requirements
Unexplained affluence or excessive indebtedness
Alcohol abuse
Illegal use or misuse of drugs or drug activity
Apparent or suspected mental health issues where there is reason to believe it may impact the individual's ability to protect classified information or other information prohibited by law from disclosure
Criminal conduct
Any activity that raises doubts as to whether the individual's continued national security eligibility is clearly consistent with national security interests
Misuse of U.S. Government property or information systems
Foreign Activities:
Direct involvement in foreign business
Foreign bank accounts
Ownership of foreign property
Application for and receipt of foreign citizenship
Application for, possession, or use of a foreign passport or identity card for travel
Voting in a foreign election
Adoption of non-U.S. citizen children
Other Activities:
Attempted elicitation, exploitation, blackmail, coercion, or enticement to obtain classified or other "protected" information
Unofficial media contacts where the media seeks access to classified or otherwise "protected" information, whether or not the contact results in an unauthorized disclosure
Arrests
Bankruptcy or over 120 days delinquency on any debt
Financial anomalies
Foreign national roommate(s)
Cohabitant(s)
Marriage
Alcohol or drug-related treatment

How to Report
All NRC employees, contractors, licensees, licensee contractors, and other covered individuals should continue to report information in accordance with their current practices as required.  As direction from the Commission is still pending, more information on any revised reporting requirements will be provided once available.
NRC employees and contractors currently report by sending the required information to PSBReporting@nrc.gov
Contact Information
For more information on SEAD 3, please contact:
USNRC
Office of Administration
Division of Facilities and Security
Security Management and Operations Branch
Washington, DC 20555–0001
Email: SEAD3Reporting@nrc.gov
Phone: (301) 415-6885

Resources
Definitions
Unofficial Foreign Travel
Travel outside of the U.S. and U.S. territories for purposes unrelated to official government business.
Covered Individuals
Individuals (employees, contractors, subcontractors, licensees, certificate holders, grantees, experts and consultants, or other entities) who:
perform work on behalf of the executive branch and have been granted access to classified information or hold sensitive positions;
perform work on behalf of a State, local, Tribe, or private sector entity and have been granted access to classified information or hold sensitive positions; or
serve in or for the legislative or judicial branches and have been granted access to classified information and the investigation or determination has been conducted by the executive branch.
Classified Information
Information that has been determined pursuant to Executive Order 13526 or any predecessor or successor order, or the Atomic Energy Act of 1954, as amended to require protection against disclosure.
Sensitive Position
Any position within or in support of an agency in which the occupant could bring about, by virtue of the nature of the position, a material adverse effect on national security regardless of whether the occupant has access to classified information and regardless of whether the occupant is an employee, military service member, or contractor. The designation levels of Noncritical-sensitive, Critical-sensitive, and Special-sensitive determine the degree to which any person in the position could cause a "material adverse effect on national security."
Unauthorized Disclosure
A communication, confirmation, acknowledgement, or physical transfer of classified information, including facilitation of, or actual giving, passing, selling, publishing, or in any way making such information available to an unauthorized recipient.

Page Last Reviewed/Updated Tuesday, May 01, 2018