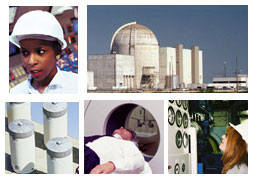 Office of Small Business and Civil Rights
On this Page:
---
Director: Vonna Ordaz
Deputy Director: Jeanne Dempsey
The Office of Small Business and Civil Rights supports the NRC mission in protecting people and the environment by enabling the agency to have a diverse and inclusive workforce, to advance equal employment opportunity for employees and applicants, to provide fair and impartial processing of discrimination complaints, to afford maximum practicable prime and subcontracting opportunities for small businesses, and to allow for meaningful and equal access to agency-conducted and financially-assisted programs and activities.

---
Small Business Program
Under the guidance of the NRC Office of Small and Disadvantaged Business Utilization (OSDUBU) Director, the Small Business Program supports and advocates for the Federal portfolio of small business programs. Formulates policies as well as designs and implements an operational program to ensure that small business interests are recognized and protected and that small businesses have maximum practicable prime and subcontract acquisition opportunities supporting the agency's mission. Conducts acquisition oversight and when regulatory requirements are met, recommends small business set-asides; provides technical assistance and counsel to the business community and agency officials; and engages in business-related outreach events in support of the Congress, other Federal agencies, State and local government, and the business community.

---
Civil Rights Program
Provides oversight for the agency's equal employment opportunity (EEO), equal opportunity (EO), compliance, affirmative employment, and diversity management activities.
Leads the agency informal and formal discrimination processes, EEO Counseling Program, Alternative Dispute Resolution Program, and the Comprehensive Diversity Management Plan. Provides advice and guidance to NRC diversity committees, and leads the planning and presentation of special emphasis observances to enhance the cultural awareness for all employees. Conducts EEO and diversity management program assessments and issues statistical reports to offices to determine overall EEO effectiveness. Responds to EEO data requests and reports from external and internal organizations.
Provides oversight, outreach, technical assistance, coordination and training, to assure that NRC conducted and Federal financially assisted programs and activities comply with fair practices and EO requirements.  Administers NRC's Minority Serving Institutions (MSIs) Program to assist and support MSIs in their efforts achieve academic excellence and produce a diverse STEM workforce.
Maintains and fosters relationships with all appropriate external organizations to ensure adherence to all appropriate statutory, regulatory and Government-wide requirements.

Page Last Reviewed/Updated Friday, March 20, 2020
Home
About Us
Popular Documents
Stay Connected