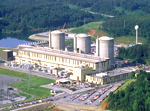 Introduction to License Renewal Tutorial
License renewal, whether initial or subsequent, rests on the determination that operating plants continue to maintain adequate levels of safety and, over the plant's life, this level has been enhanced through maintenance of the licensing bases, with appropriate adjustments to address new information from industry operating experience. Additionally, NRC activities have provided ongoing assurance that the licensing bases will continue to provide an acceptable level of safety. The license renewal review provides an independent examination, asking the following questions:
Does the reactor operator understand the effects of aging on critical safety components?
Has the operator taken appropriate actions to assure safe operation?
The following topics will explain the entire license renewal process:

Page Last Reviewed/Updated Monday, May 18, 2020
Home
About Us
Popular Documents
Stay Connected