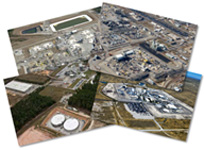 NDAA Section 3116 Waste Incidental to Reprocessing (WIR) at the Savannah River Site (SRS) in South Carolina – Saltstone Disposal Facility (SDF)
SRS SDF in Aiken, South Carolina



Operator: U.S. Department of Energy
Docket Number: PROJ0734
Site Description: Two rectangular, six smaller round, and seven larger round concrete disposal structures
Waste Volume: approximately 1.34x108 Litres (3.54x107 gallons)

Under Section 3116(b) of the Ronald W. Reagan National Defense Authorization Act for Fiscal Year 2005 (NDAA), the U.S. Nuclear Regulatory Commission (NRC), in coordination with the NDAA-Covered State monitors the U.S. Department of Energy (DOE) disposal actions to assess compliance with the NRC regulations in Title 10 of the Code of Federal Regulations (10 CFR) Part 61, "Licensing Requirements for Land Disposal of Radioactive Waste," Subpart C, "Performance Objectives." The NDAA-Covered States are currently Idaho (ID) and South Carolina (SC).
The Savanah River Site (SRS) is a 802 square kilometer (km2) (310 square mile (mi2)) facility located in south-central SC, which began operation in 1951 producing nuclear materials for national defense, research, medical, and space programs. Waste produced at the site from spent nuclear fuel reprocessing for defense purposes has been commingled with non-reprocessing waste resulting from the production of targets for nuclear weapons and production of material for space missions. Significant quantities of radioactive waste are currently stored onsite in large underground waste storage tanks, which were placed in operation between 1954 and 1986. The waste stored in the tanks is a mixture of insoluble metal hyrdroxide solids, referred to as sludge, and soluble salt supernate. The supernate volume has been reduced by evaporation, which also concentrates the soluble salts to their solubility limits. The resultant solution crystallizes as salts and the resulting solid is referred to as saltcake. The saltcake and supernate combined are referred to as salt waste.
The DOE removes the salt waste, treats it to remove highly radioactive radionuclides to the maximum extent practical, and disposes of the low activity fraction onsite in the SDF. The Saltstone Disposal Facility (SDF) is located in the SRS Z-Area, which is approximately 10 kilometers (6.2 miles) from the nearest SRS site boundary on a local topographic high. In the future, after all the disposal structures are operationally full, the DOE will put one or more covers over the SDF.
Currently, the DOE constructed and put into operation disposal structures:
two rectangular: Saltstone Disposal Structure (SDS) 1 and SDS 4
six smaller round: SDS 2A, SDS 2B, SDS 3A, SDS 3B, SDS 5A, and SDS 5B
one larger round: SDS 6
Currently, the DOE plans to construct and put into operation the future disposal structures:
six larger round: SDS 7 – SDS 12
Major NDAA WIR Consultation & Monitoring Documents For The SRS SDF:
Document
Date
ADAMS Accession No.
NDAA Section 3116(a) Consultation Documents
DOE Draft Basis for Waste Determination
02/28/2005
ML051020072
NRC Technical Evaluation Report
12/28/2005
ML053010225
DOE Final Basis for Waste Determination
01/17/2006
ML102850319
DOE Waste Determination by Sec. of Energy
01/17/2006
ML17136A069
 NDAA Section 3116(b) Monitoring Documents
NRC Monitoring Plan
05/03/2007
ML070730363
NRC Onsite Observation Visit Report
01/31/2008
ML073461038
NRC Onsite Observation Visit Report
06/05/2008
ML081290367
NRC Onsite Observation Visit Report
09/24/2008
ML082530057
NRC Onsite Observation Visit Report
04/22/2009
ML091320439
NRC Technical Review Report
08/25/2009
ML092300670
NRC Technical Review Report
09/01/2009
ML092300572
NRC Technical Review Report
09/01/2009
ML092300610
NRC Onsite Observation Visit Report
09/30/2009
ML092170006
NRC Onsite Observation Visit Report
10/01/2009
ML092710477
NRC Technical Review Report
10/23/2009
ML092890633
DOE 2009 Performance Assessment
10/31/2009
ML101590008
NRC Technical Review Report
11/09/2009
ML093030220
NRC Technical Review Report
11/12/2009
ML093100197
NRC Onsite Observation Visit Report
06/07/2010
ML101320386
NRC Onsite Observation Visit Report
07/07/2010
ML101460044
NRC Onsite Observation Visit Report
11/19/2010
ML102180250
NRC Onsite Observation Visit Report
03/15/2011
ML110670458
NRC Onsite Observation Visit Report
08/09/2011
ML111890319
NRC Technical Evaluation Report, Rev. 1
04/30/2012
ML121170309
NRC Type-IV Letter of Concern
04/30/2012
ML120650576
DOE Response to NRC Type-IV Letter
07/12/2012
ML12198A263
DOE Additional Response to NRC Type-IV Letter
07/26/2012
ML12215A080
NRC Acknowledgement of DOE 07/12/2012 Letter
08/31/2012
ML12213A447
NRC Onsite Observation Visit Report
11/19/2012
ML12286A191
NRC Onsite Observation Visit Report
02/15/2013
ML13010A499
NRC Onsite Observation Visit Report
08/23/2013
ML13199A434
NRC Monitoring Plan, Rev. 1
09/01/2013
ML13100A113
NRC Technical Review Report
11/07/2013
ML13304B159
NRC Onsite Observation Visit Report
08/28/2014
ML14199A219
NRC Onsite Observation Visit Report
05/27/2015
ML15041A562
NRC Technical Review Report
06/04/2015
ML15098A031
NRC Onsite Observation Visit Report
09/28/2015
ML15236A299
NRC Onsite Observation Visit Report
07/15/2016
ML16147A197
NRC Technical Review Report
08/01/2016
ML16196A179
NRC Technical Review Report
12/23/2016
ML16277A060
NRC Technical Review Report
01/05/2017
ML16342C575
NRC Technical Review Report
03/23/2017
ML17018A137
NRC Technical Review Report
04/12/2017
ML17081A187
NRC Onsite Observation Visit Report
05/05/2017
ML17054C453
NRC Letter Supplementing the Monitoring Plan
06/05/2017
ML17097A351
NRC Technical Review Report
01/31/2018
ML18002A545
NRC Letter Supplementing the Monitoring Plan
03/01/2018
ML18033A071
NRC Technical Review Report
05/17/2018
ML18117A494
NRC Technical Review Report
05/22/2018
ML18095A122
NRC Letter Supplementing the Monitoring Plan
06/29/2018
ML18107A161
NRC Technical Review Report
06/29/2018
ML18158A172
NRC Letter Supplementing the Monitoring Plan
10/16/2018
ML18219B035
NRC/DOE Joint Plan to Resolve the NRC Type-IV Letter of Concern
10/23/2018
ML18235A068
NRC Onsite Observation Visit Report
11/01/2018
ML18219B859
NRC Technical Review Report
05/28/2019
ML19031B221
NRC Letter Supplementing the Monitoring Plan
08/05/2019
ML19150A295
NRC Onsite Observation Visit Report
11/27/2019
ML19289A525
DOE 2020 Performance Assessment
03/02/2020
ML20190A056
Current Status Of NDAA Section 3116(b) Monitoring For The SRS SDF:
NRC Conclusion from the current 2012 Technical Evaluation Report

The NRC concludes that it has reasonable assurance that waste disposal at the SRS SDF meets the 10 CFR 61 Performance Objectives for protection of individuals against intrusion (§61.42), protection of individuals during operations (§61.43), and site stability (§61.44).

However, based on the NRC evaluation of the DOE results and independent sensitivity analyses conducted with the DOE models, the NRC no longer has reasonable assurance that the DOE disposal activities at the SRS SDF meet the Performance Objective for protection of the general population from releases of radioactivity (§61.41).

Although the NRC cannot conclude that the Performance Objective in §61.41 is met, based on the DOE results and the NRC own independent analyses, the potential dose to an off-site member of the public from the DOE disposal actions is still expected to be relatively low.

NRC Notification Letters
None because the NRC Letter dated 07/10/2020 (ADAMS Accession No. ML20148M201) Administratively Closed the NRC 2012 Type-IV Letter of Concern
NRC Open Issues
None
NRC Monitoring Areas (MAs) and Monitoring Factors (MFs) in the current 2012 Monitoring Plan, as supplemented by later NRC letters
All 11 MAs are Open, 5 MFs are Closed (MF 3.01, MF 3.02, MF 3.04, MF 5.05, & MF 6.02), and the other 37 MFs are Open
Current NRC Project Manager: Harry Felsher, 301-415-6559, Harry.Felsher@nrc.gov

Page Last Reviewed/Updated Wednesday, July 15, 2020
Home
About Us
Popular Documents
Stay Connected