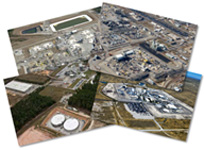 F-Tank Farm (FTF) for Waste Incidental to Reprocessing
Aiken, South Carolina
Operator: U.S. Department of Energy
Docket Number: PROJ0734

Site Description: 22 underground carbon steel tanks 80-100 feet in diameter, 23 ft. high (4 closed and grouted; 6 emptied of HLW)
Waste Volume: approximately 750,000- 1,300,000 gallons of capacity per tank.

General Description of F-Tank Farm for Waste Incidental to Reprocessing
F-Tank Farm (FTF) is a component of the overall Savannah River site. Tanks were intended to collect and help manage liquid waste associated with the production of nuclear material during the cold war. DOE is obliged to clean and close the tanks pursuant to the Federal Facilities Agreement between itself, U.S. EPA and the South Carolina Department of Health and Environmental Control.
DOE submitted a draft waste determination, including performance assessment and other documentation for the entire F-Tank Farm for NRCs review in September 2010. NRC completed a Technical Evaluation Report in October 2011. The report included a number of recommendations that NRC believes will enhance DOEs chances of successful closure. DOE's Final Waste Determination was signed by the Secretary of Energy in April 2012.
Site Information
Contacts

Lead Project Manager: James Shaffner
(301) 415-5496
Technical Project Manager: Cynthia Barr
(301) 415-4015
Public Affairs Officer: David McIntyre
(301) 415-8206
Office Director: Scott Moore, Acting
(301) 415-0595
Division Director: John Tappert
(301) 415-7319
Deputy Director: Andrea Kock
(301) 415-7319
Branch Chief: Gregory Suber
(301) 415-8087
Page Last Reviewed/Updated Thursday, August 10, 2017
Home
About Us
Popular Documents
Stay Connected