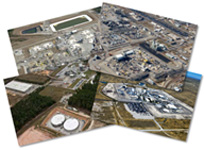 West Valley for Waste Incidental to Reprocessing
West Valley, New York
Operator: U.S. Department of Energy
Docket Number: 0500201, POOM-032
General Description of West Valley Site for Waste Incidental to Reprocessing
The West Valley Demonstration Project (WVDP) is located in western New York State, about 50 km (30 miles) south of Buffalo, New York. The WVDP facilities occupy a security-fenced area of about 0.676 km2 (167 acres) within the 13.51 km2 (3,338 acre) Western New York Nuclear Service Center (WNYNSC) located primarily in the town of Ashford in northern Cattaraugus County.
To date, the West Valley site in West Valley, New York is the first and only commercial reprocessing plant to operate in the United States. From 1966 to 1972, Nuclear Fuel Services (NFS) reprocessed 640 metric tons of spent fuel under an Atomic Energy Commission (AEC) license. Approximately four years after shutting down, NFS returned control of the facilities to the site owner, New York State Energy Research and Development Authority (NYSERDA). Operations at the facility resulted in approximately 2.3 million liters (600,000 gallons) of liquid high-level waste (HLW) which was stored below ground in carbon-steel tanks, as well as other radioactive wastes, and residual radioactive contamination.
In terms of WIR, NRC's role is to provide consultative review to DOE of DOE documents evaluating components of the facility being proposed for disposal as low-level waste offsite. Those reviews are performed at the request of DOE under an Interagency Agreement.
Site Information
Contacts

Lead Project Manager: Harry Felsher
(301) 415-6559
Technical Project Manager: Leah Parks
(301) 415-6043
Public Affairs Officer: David McIntyre
(301) 415-8206
Office Director: Catherine Haney
(301) 287-9243
Division Director: Larry Camper
(301) 415-6673
Deputy Director: Andrew Persinko
(301) 415-7479
Branch Chief: Gregory Suber
(301) 415-8087
Page Last Reviewed/Updated Thursday, August 10, 2017
Home
About Us
Popular Documents
Stay Connected