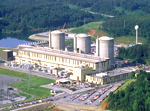 10 CFR 50 Appendix B Notices of Nonconformance (NON) and Violation (NOV) - V. Instructions, Procedures, and Drawings
The following table lists, in chronological order, the Quality Assurance (QA) Inspection for New Reactor Licensing reports and Vendor QA Inspection reports with a Criterion V NON/NOV.
This page includes links to files in non-HTML format. See Plugins, Viewers, and Other Tools for more information.
| Date | Title |
| --- | --- |
| 03/14/19 | HydroAire Service, Inc., Chicago, IL, limited scope inspection to assess compliance with selected portions of their quality assurance (QA) and Part 21 programs as they pertain to activities conducted at your facility related to the design, fabrication, assembly, and testing activities of components for NRC regulated facilities. |
| 09/11/18 | Hayward-Tyler, Inc., Colchester, VT, limited scope inspection to assess compliance with selected portions of their quality assurance (QA) and Part 21 programs as it pertains to as they pertain to Hayward-Tyler, Inc.'s: design, qualification, commercial grade dedication, and manufacturing of safety related pumps and other equipment for operating nuclear power plants. Also, the inspection will review the activities that address the Notices of Noncompliance (NONs) from the previous NRC inspection. |
| 08/06/18 | Gutor Electronic, Wettingen, Switzerland, limited scope inspection to assess compliance with selected portions of their quality assurance (QA) and Part 21 programs as it pertains to Gutor Electronic's supply of safety-related components to the U.S. nuclear industry. |
| 08/22/17 | Flowserve Corporation, Raleigh, NC, limited scope inspection to assess compliance with selected portions of their quality assurance (QA) and Part 21 programs as it pertains to activities conducted at your facility related to the design, fabrication, and testing of valves and replacement valve parts for NRC's regulated facilities. |
| 03/30/17 | Chicago Bridge & Iron (CB&I), Laurens, SC, limited scope inspection to assess compliance with selected portions of their quality assurance (QA) and 10 CFR Part 21 programs, as they pertain to CB&I Laurens' implementation of quality activities associated with the fabrication and testing of safety-related piping for the Westinghouse Electric Company AP1000 reactor design. |
| 08/29/16 | Namco Controls Corporation, Elizabethtown, NC, limited scope inspection to assess compliance with selected portions of their quality assurance (QA) and 10 CFR Part 21 programs specifically, as it pertains to Namco's design, qualification, fabrication, testing, commercial-grade-dedication, and manufacturing of safety-related limit switches for operating nuclear plants and AP1000 plants. |
| 07/09/15 | ABB, Incorporated, Coral Springs, FL, limited scope inspection to assess compliance with selected portions of their quality assurance (QA) and 10 CFR Part 21 programs as they pertain associated with safety-related components supplied to operating nuclear power plants. |
| 06/25/15 | National Technical Systems, Huntsville, AL, limited scope inspection to assess compliance with selected portions of their quality assurance (QA) and 10 CFR Part 21 programs specifically as they pertain to the ASME QME-1-2007 functional and flow qualification testing of the 8-inch squib valves for the Westinghouse AP1000 design. |
| 03/26/15 | National Testing Services, Huntsville, AL, limited scope inspection to assess compliance with selected portions of their quality assurance (QA) and 10 CFR Part 21 programs, specifically as they pertain to reviewing documentation, and observing testing associated with submergence testing of the squib valve actuators being supplied as part of the Westinghouse AP1000 design. |
| 11/21/14 | Southwest Research Institute, San Antonio, TX, limited scope inspection to assess compliance with selected portions of their quality assurance (QA) and 10 CFR Part 21 programs, specifically as they pertain to testing and analysis of nuclear safety related components. |
| 11/10/14 | RSCC Wire & Cable LLC (RSCC), East Granby, CT., limited scope inspection to assess compliance with selected portions of their quality assurance (QA) and 10 CFR Part 21 programs. |
| 01/29/14 | Rosemount Nuclear Instruments, Inc. (Rosemount), Chanhassen, Minnesota, limited scope inspection to assess Rosemounts' compliance with selected portions of their quality assurance (QA) and 10 CFR Part 21 programs as they pertain to safety-related activities for US regulated facilities. |
| 05/07/13 | Meggitt Safety Systems, Simi Valley, CA, limited scope inspection to assess Meggitt's compliance with selected portions of their quality assurance (QA) and 10 CFR Part 21 programs specifically as they pertain to the design, procurement, manufacture, and test of a sample of Class 1E cables and post-accident hydrogen and oxygen containment atmosphere monitoring systems. |
| 04/22/13 | Dresser Masoneilan facility in Avon, Massachusetts, limited scope inspection to assess Dresser Masoneilan's compliance with selected portions of their quality assurance (QA) and 10 CFR Part 21 programs specifically related to quality assurance activities associated with the design, fabrication, assembly, and testing of safety-related valves and valve parts for U.S. nuclear power plants. |
| 03/21/13 | Weir Valves & Controls USA Inc., Ipswich, MA, limited scope inspection to assess Weir Valves and Controls' compliance with selected portions of their quality assurance (QA) and 10 CFR Part 21 programs specifically related to the design, fabrication, assembly, and testing activities of components for NRC regulated facilities. |
| 03/19/13 | Cives Steel Company (Cives), Southern Division facility, Thomasville, GA, limited scope inspection to assess Cives' compliance with selected portions of their quality assurance (QA) and 10 CFR Part 21 programs, specifically associated with the fabrication of concrete embedments for AP1000 reactor plants at Vogtle Electric Generating Plant, Units 3 and 4, and Virgil C. Summer Nuclear Station, Units 2 and 3. |
| 09/14/12 | UniStar Nuclear Energy, LLC (UNE), Baltimore, MD, limited scope inspection was to assess UNE's compliance with selected portions of their quality assurance (QA) and 10 CFR Part 21 programs. |
| 05/10/12 | Clark Dynamics, LLC facility (hereafter referred to as Clark), Jefferson Hills, PA, technically-focused, limited scope inspection of Clark's quality assurance (QA) program and 10 CFR Part 21 program, specifically associated with the vibrational aging and seismic qualification of worm gear actuators and electrical penetrations associated with inspections, tests, analyses, and acceptance criteria (ITAAC) 2.2.01.05.ii, 2.2.02.05a.ii, 2.2.05.05a.ii, 2.3.02.05.ii, 2.3.07.05.ii, and 2.7.01.05.ii from Revision 19 of the Westinghouse AP1000 pressurized-water reactor certified design. |
| 01/25/12 | Mitsubishi Electric Corporation (MELCO), Kobe, Japan, inspection of selected portions of MELCO'S quality assurance (QA) program and 10 CFR Part 21 program |
| 08/09/11 | Mitsubushi Heavy Industries, LTD., US-APWR Design Certification Application - Inspection of the implementation of the quality assurance processes and procedures for testing activities performed in support of the US-APWR DC application in accordance with the requirements of Appendix B to 10 CFR Part 50 and 10 CFR Part 21 at the Alden Research Laboratory facilities in Holden, MA. |
| 07/29/11 | Continuum Dynamics, INC, (CDI), Ewing, NJ, inspection of selected portions of CDI's quality assurance (QA) program and 10 CFR Part 21 program |
| 04/22/11 | Flowserve Limitorque, Lynchburg, VA, inspection of selected portions of Flowserve Limitorque's quality assurance (QA) program and 10 CFR Part 21 program |
| 02/02/11 | Mitsubushi Heavy Industries, LTD., US-APWR Design Certification Application - Inspection of the implementation of the quality assurance program to support the US-APWR DC application in accordance with the requirements of Appendix B to 10 CFR Part 50 and 10 CFR Part 21 at the MHI facilities in Kobe, Japan. |
| 01/20/11 | GE Hitachi Nuclear Energy, Wilmington, NC, inspection of selected portions of GE Hitachi's quality assurance (QA) program and 10 CFR Part 21 program |
| 01/03/11 | Consolidated Power Supply, Birmingham, AL, inspection of selected portions of CPS's quality assurance (QA) program and 10 CFR Part 21 program |
| 10/26/10 | IHI Corporation, Yokohama, Japan, inspection of selected portions of IHI's quality assurance (QA) program and 10 CFR Part 21 program |
| 09/29/10 | Mangiarotti S.p.A., Sedegliano (UD), Italy, inspection of selected portions of Mangiarotti's quality assurance (QA) program and 10 CFR Part 21 program |
| 04/22/10 | Shaw Nuclear Services, Charlotte, NC, inspection of selected portions of Shaw's quality assurance (QA) program and 10 CFR Part 21 program |
| 10/29/09 | C & D Technologies, Inc., Blue Bell, PA, inspection of selected portions of C & D's quality assurance (QA) program and 10 CFR Part 21 program |
| 07/08/09 | Steam Generating Team (SGT), LLC, Charlotte, NC, inspection of selected portions of SGT's quality assurance (QA) program, and 10 CFR Part 21 program |
| 05/27/09 | Conval, Inc., Somers, CT, follow-up inspection of selected portions of Conval's quality assurance (QA) program, and 10 CFR Part 21 program |
| 04/27/09 | Dresser Industries Incorporated, Alexandria, LA, inspection of selected portions of Dresser's quality assurance (QA) program, and 10 CFR Part 21 program |
| 03/31/09 | CoreStar International Corporation, Irwin, PA, inspection of selected portions of CoreStar's quality assurance (QA) program, and 10 CFR Part 21 program |
| 03/25/09 | General Electric Hitachi ESBWR Design Certification Application - Inspection of the implementation of the quality assurance and Part 21 programs governing the application for the ESBWR Design Certification the GE Hitachi facility in Wilmington, NC. |
| 03/13/09 | GE Hitachi (GEH) Nuclear Energy, Wilmington, NC, inspection of selected portions of GEH's quality assurance (QA) program, and 10 CFR Part 21 program |
| 03/02/09 | South Texas Project Nuclear Operating Company (STPNOC) Units 3 and 4 Combined License Application - Inspection of the implementation of the quality assurance program governing the due diligence assessment to determine whether Toshiba Corporation is qualified to supply the design of the Advance Boiling Water Reactor (ABWR) for STPNOC Units 3 and 4 in accordance with Appendix A "Design Certification Rule for the US ABWR" to 10 CFR Part 52, "Licenses, Certifications, and Approvals for Nuclear Power Plants," of the Code of Federal Regulations (10 CFR Part 52) at the STP facility in Bay City, TX. |
| 12/24/08 | Westinghouse AP1000 Design Certification Amendment Application - Inspection of the implementation of the quality assurance and Part 21 programs governing the amendment to the AP1000 Design Certification the Westinghouse facility in Monroeville, PA. |
| 11/04/08 | Global Nuclear Fuel (GNF), Wilmington, NC, inspection of GNF's 10 CFR Part 21 program |
| 09/17/08 | Spectrum Technologies Utilities Service Division, Schenectady, NY, inspection of selected portions of Spectrum's quality assurance (QA) program, and 10 CFR Part 21 program |
| 06/02/08 | PCI Energy Services, LLC, Lake Bluff, IL, inspection of selected portions of PCI's quality assurance (QA) program, and 10 CFR Part 21 program |
| 03/19/08 | Bellefonte Combined License Application - Inspection of the implementation of the quality assurance program governing the simulated open channel hydraulics model at the TVA facility in Chattanooga, TN. |
| 12/28/07 | Areva NP, Inc., Cranberry Township, PA, inspection of selected portions of Areva NP's quality assurance (QA) program, and 10 CFR Part 21 program implemented at Eaton Cutler-Hammer's facility in Greenwood, South Carolina |
| 12/18/07 | Velan Inc., Montreal, Canada, inspection of selected portions of Velan's quality assurance (QA) program, and 10 CFR Part 21 program |
| 10/16/07 | Conval Inc., Somers, CT, inspection of selected portions of Conval's quality assurance (QA) program, and 10 CFR Part 21 program |
| 10/09/07 | Babcock & Wilcox Canada, Cambridge Ontario, Canada, inspection of selected portions of Babcock & Wilcox Canada's quality assurance (QA) program, and 10 CFR Part 21 program |
| 01/09/07 | Engine Systems, Inc. (ESI), Rocky Mount, NC, inspection of selected portions of ESI's quality assurance (QA) program, and 10 CFR Part 21 program. |
| 10/05/06 | PRIME Measurement Products, City of Industry, CA, inspection of selected portions of PRIME's quality assurance (QA) program, and 10 CFR Part 21 program |
| 09/22/06 | Nuclear Logistics Incorporated, Fort Worth, TX, inspection of selected portions of Nuclear Logistics Inc.'s quality assurance (QA) program, and 10 CFR Part 21 program |
| 08/25/06 | Areva NP Inc., Lynchburg, VA, inspection of selected portions of Areva NP Inc.'s quality assurance (QA) program, and 10 CFR Part 21 program. |
| 02/08/06 | Flowserve, Raleigh, NC, quality assurance and commercial grade dedication inspection |
| 06/02/05 | AREVA Framatome ANP, Incorporated, Electrical Products Group (ELP), Cranberry Township, PA, ELP quality assurance and commercial grade dedication inspection |

Page Last Reviewed/Updated Tuesday, November 05, 2019
Home
About Us
Popular Documents
Stay Connected