NRC COVID-19 Update
COVID-19 Response Activities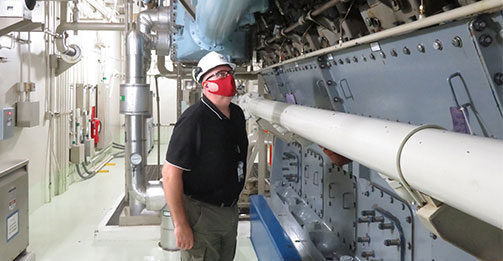 Senior Resident Inspector Paul Zurawski is #OntheJob at the DC Cook nuclear power plant inspecting the emergency diesel generators, which supply power to safety-related equipment if the plant loses off-site power.
This page includes links to files in non-HTML format. See Plugins, Viewers, and Other Tools for more information.
The NRC is ensuring the health and safety of employees while maintaining its important safety and security mission during the COVID-19 health emergency.
Significant NRC actions include:
Initiating Phase 2 of a re-occupancy plan for NRC headquarters in Rockville, Md., Region I in King of Prussia, Pa., and Region III near Chicago, which outlines steps for the return of additional staff to regular work stations. Phase 1 continues in Region II in Atlanta, Region IV near Dallas, and the Technical Training Center in Chattanooga, Tenn.

Developing web pages outlining temporary flexibilities related to COVID-19 for nuclear power plant licensees and nuclear materials licensees, consistent with guidelines from the U.S. Centers for Disease Control and Prevention, while licensees maintain a focus on nuclear safety and security.

Communicating regularly with nuclear facilities to discuss current activities and future plans including reactor operator licensing, reductions in non-essential maintenance, fire brigade staff requirements, and other matters.

Providing the nuclear power industry with information to facilitate the expedited review of requests for temporary exemptions to work-hour limits to allow flexibility in maintaining an appropriate workforce to meet the NRC's minimum reactor operator and security staffing requirements.

Providing information to NRC licensees to facilitate the expedited review of requests for temporary exemptions to some emergency exercise requirements.

Providing information on how non-power reactors remain safe during the health emergency and how those facilities can request extensions to requirements to account for special nuclear materials.

Phasing resident inspectors back into nuclear plants, the Vogtle Units 3 & 4 construction site, and Category 1 fuel fabrication facilities to increase the limited in-person activities from earlier in the health emergency. On a site-specific basis, the inspectors and related staff will increase visits while continuing remote monitoring of NRC-regulated plant data systems, meetings and other information, and remain in a ready status to respond immediately, if necessary.

Adjusting inspection plans and schedules to safeguard the health and safety of NRC and licensee staff while effectively implementing the Reactor Oversight Program. Each planned inspection is reviewed to determine if any of it can be performed remotely and how best to perform on-site portions to minimize health risks.

Informing NRC non-reactor licensees (such as medical and industrial users and fuel cycle facilities) about the existing ways to request temporary relief from some agency requirements while maintaining safety. These licensees have also been informed about using email to submit these requests, and impacts on the agency's ability to process some important information.

Developing inspection procedures for limited-scope tactical response drills and other prudent inspection activities to ensure licensees can fulfill the requirements of their security programs while full force-on-force inspections are deferred.

Issuing general enforcement guidance on how the agency will examine COVID-19-related potential violations of NRC regulations. The NRC also issued specific enforcement guidance on COVID-19-related potential security training and qualification violations.

Ensuring the NRC's Office of Small Business and Civil Rights mitigates the pandemic's impact on small businesses and continues to safeguard the agency's equal employment opportunity and civil rights non-discrimination laws.

Postponing public meetings or reorganizing them to use communication technology, such as teleconference, videoconference, webinars and other means.

Extending public comment deadlines, depending on the circumstances of each activity, specific impacts of the COVID-19 health emergency, and the activity's significance to the NRC's mission.

Creating a new NRC eLearning initiative to help parents with children being schooled at home and for adults who want to know more about science, nuclear technology and the NRC.
Page Last Reviewed/Updated Wednesday, October 07, 2020
Home
About Us
Popular Documents
Stay Connected