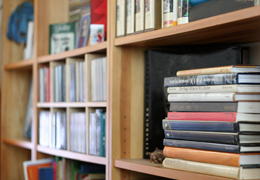 subscribe to page updates
Open Petition for Rulemaking Dockets
The rulemaking petition process is the system by which any member of the public can request that the NRC develop, modify, or rescind a regulation.
This page lists the year when a particular petition for rulemaking (PRM) was docketed, the Docket ID, the PRM docket number, and the title of all open petitions.
This page also provides links to the Regulations.gov site. This government-wide, online database includes the NRC's public dockets related to PRMs. The dockets include publicly available documents such as NRC-issued Federal Register notices, supporting documents, public comments, and other related documents. Select the docket number shown in the table to access a particular docket. Once you are in the docket, you may sign up to receive an e-mail notification when particular documents are placed in the docket. To subscribe: (1) navigate to the docket folder; (2) click the "E-mail Alert" link; and (3) enter your e-mail address and select how frequently you would like to receive e-mails (daily, weekly, or monthly).
If a document is open for public comment, you can submit comments electronically by clicking "Submit a Comment" on the Regulations.gov Search Results page and completing the Public Comment and Submission Form. For more information on Regulations.gov, see Help and Frequently Asked Questions.
The following links to non-NRC servers and websites are provided solely as a reference for the convenience of users. NRC cannot guarantee the authenticity of documents or the validity of information obtained at these non-NRC websites. See our Site Disclaimer for more information.
Year
Docket ID
PRM
Title
2020
NRC-2020-0155
PRM-50-123
Public Protection Actions During a General Emergency
NRC-2020-0150
PRM-50-122
Accident Source Term Methodologies and Corresponding Release Fractions
NRC-2020-0141
PRM-35-22
Reporting Nuclear Medicine Injection Extravasations as Medical Events
NRC-2020-0055
PRM-50-121
Voluntary Adoption of Revised Design Basis Accident Dose Criteria
2019
NRC-2019-0180
PRM-50-120
Alternative Method for Calculating Embrittlement for Steel Reactor Vessels
NRC-2019-0083
PRM-50-119
Decommissioning Nuclear Power Plants and Access to the Decommissioning Trust Funds
NRC-2019-0071
PRM-50-118
Measurement Standards Used at U.S. Nuclear Power Plants
NRC-2019-0063
PRM-50-117
Criteria to Return Retired Nuclear Power Reactors to Operations
2018
NRC-2018-0201
PRM-50-116
Elimination of Immediate Notification Requirements for Non-Emergency Events
2017
NRC-2017-0159
PRM-30-66
Naturally-Occurring and Accelerator-Produced Radioactive Materials
2015
NRC-2015-0213
PRM-50-112
Defining "Important to Safety"
NRC-2015-0057
PRM-20-28
Carol S. Marcus; Linear No-Threshold Model and Standards for Protection Against Radiation
PRM-20-29
Mark L. Miller; Linear No-Threshold Model and Standards for Protection Against Radiation
PRM-20-30
Mohan Doss, et. al: Linear No-Threshold Model and Standards for Protection Against Radiation
NRC-2015-0028
PRM-50-110
Risk-Informed Categorization and Treatment of Structures, Systems, and Components for Nuclear Power Reactors
2014
NRC-2014-0165
PRM-73-18
Protection of Digital Computer and Communication Systems and Networks
2011
NRC-2011-0189
Multiple Petitions for Rulemaking Related to Safety and Environmental Implications of the Fukushima Task Force Report
PRM-50-103
Petition for Rulemaking from NRDC to Revise 10 CFR 50.44
2010
NRC-2010-0310
PRM-26-6
Erik Erb – Minimum Day Off Requirement for Security Officers
NRC-2010-0304
PRM-26-5
Nuclear Energy Institute – Fitness-for-Duty Programs
2009
NRC-2009-0554
PRM-50-93
Mark Edward Leyse; Calculated Maximum Fuel Element Cladding Temperature
PRM-50-95
Mark Edward Leyse and Raymond Shadis
NRC-2009-0482
PRM-26-3
Professional Reactor Operator Society - Fitness-for-Duty Programs
2002
NRC-2002-0018
PRM-50-75
Large Break Loss of Coolant Accident Redefinition

Page Last Reviewed/Updated Friday, July 10, 2020
Home
About Us
Popular Documents
Stay Connected