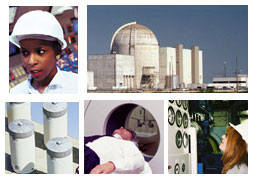 Public Meetings and Presentations
The NRC holds public meetings about agency activities related to safety culture initiatives. Handouts and presentation materials are included below. If you have any questions about public meetings, please contact us.
This page includes links to files in non-HTML format. See Plugins, Viewers, and Other Tools for more information.
On this page:
Safety Culture Public Meetings
Date
Description
08/07/2013

Public meeting between the U.S. Nuclear Regulatory Commission staff and stakeholders to exchange information and discuss ongoing outreach and education associated with the Safety Culture Policy Statement

Sponsored Office: OE

02/09/2012

Commission Briefing on the status of outreach and education efforts with external stakeholders related to the Safety Culture Policy Statement

Sponsored Office: OE

06/16/2011

Stakeholders / NRC Meeting Regarding Updates to the Draft Safety Culture Policy Statement

Sponsored Office: OE

09/28/2010

Stakeholders / NRC Meeting Regarding the Draft Safety Culture Policy Statement

Sponsored Office: OE

09/16/2010

Public Meeting Between NRC and Stakeholders Regarding Safety Culture

Sponsored Office: OE

07/28/2010

Public Meeting Summary and Slides Between NRC and NEI

Sponsored Office: NRR

July 15, 2010

Conference Call - Safety Culture Panelists

Sponsored Office: OE

06/30/2010

Health Physics Society / NRC Special Joint Session on Safety Culture - Health Physics Society Annual Meeting, Salt Lake City, UT

03/30/2010

Commission Meeting: Briefing on Safety Culture

02/2-4/2010

02/03/2009

(rescheduled from January 28)

Open House Handouts
Presentation Materials

Session 1: Opening and Introduction
Session 2: Safety Culture/Security Culture
Session 3A: Materials Area Considerations
Session 3B: Reactors Area Considerations
Summary and Wrap-up Session

The majority of the workshop discussions were recorded through Webinar. For instructions on how to access the workshop recording, please contact June Cai at 301-415-5192.

Sponsored Office: OE

12/04/2008

Meeting Notice and Agenda
Meeting Slides

06/17-19/2008

Sponsored Office: NMSS

05/14/2008

Meeting Materials
External Stakeholders' Comments - Lessons Learned Recommendations

Exelon - Draft IP71152 and Draft IMC0612

NEI - Draft IP71152 and Draft IMC0612

Sponsored Office: NRR

05/13/2008

Sponsored Office: NRO

04/17/2008

Meeting Material
External Stakeholders' Comments - Lessons Learned Recommendations

Sponsored Office: NRR

04/2-3/2008

Sponsored Office: NRO
Historical Documentation

Page Last Reviewed/Updated Monday, January 22, 2018
Home
About Us
Popular Documents
Stay Connected