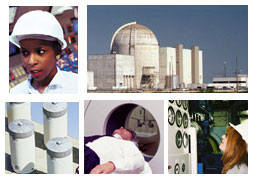 Information for Agreement States
The NRC encourages the Agreement States, Agreement State licensees and other organizations interested in nuclear safety to support the development and maintenance of a positive safety culture, as described in the NRC's Safety Culture Policy Statement.
On this page:
Safety Culture Training Webinar
NRC staff hosted a training webinar for Agreement State regulators and personnel in September 2013. The purpose of the webinar was to provide a clear and consistent message on the expectations contained in the NRC Safety Culture Safety Culture Policy Statement and guidance for how Agreement States can support implementation of the Safety Culture Policy Statement with their licensees. A link to the webinar is provided below.
Customizable Materials for Agreement States
NRC staff has developed a standardized set of presentation materials and revisable electronic brochure to support Agreement States' outreach and education efforts related to the Safety Culture Policy Statement. Links to those templates are provided below:

Safety Culture Educational Resource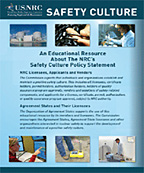 The Safety Culture Educational Resource on the Safety Culture Policy Statement was developed as a training tool for licensees, vendors and Agreement States. This resource includes the nine Trait Talks, the Metro Case Study and the Metro Journey (all previously individually published on the Safety Culture Web page) along with study questions and the Policy Statement FRN. This resource provides the licensees with a comprehensive understanding of the policy statement and how they can put its principles into action in their daily activities.

Page Last Reviewed/Updated Monday, January 22, 2018
Home
About Us
Popular Documents
Stay Connected