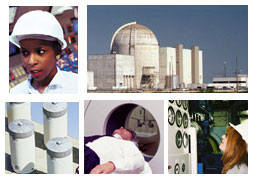 Safety Culture and Nuclear Materials
Establishing and maintaining a positive safety culture directly contributes to the safe and secure use of radioactive materials. Licensees and other users of regulated material are primarily responsible to ensure that these materials are used safely and securely. Because weaknesses in safety culture or a deteriorating safety culture appear to increase the likelihood of performance problems and the consequences of those problems, the NRC encourages licensees to maintain a positive safety culture.
On this page:
Fuel Cycle Facilities
The NRC hosts an annual Fuel Cycle Information Exchange to discuss regulatory activities related to fuel cycle facilities, including discussions of safety culture.

Spent Fuel Storage and Transportation
To reiterate the value and importance of safety culture, every public meeting sponsored by Spent Fuel Storage and Transportation includes a brief discussion of NRC safety culture, and copies of the Safety Culture Policy Statement brochure.

Page Last Reviewed/Updated Monday, January 22, 2018
Home
About Us
Popular Documents
Stay Connected