Fuel Cycle Facilities Regulations, Guidance, Communications, and Cumulative Effects of Regulation
On this page:
Regulations
NRC's regulations are found in Chapter I of Title 10, "Energy," of the Code of Federal Regulations (CFR). Chapter I is divided into Parts 1 through 199. The following are for the licensing and operation of fuel cycle facilities:

Guidance
Regulatory guides are issued in 10 divisions and are intended to aid licensees in implementing regulations. The guides most applicable to nuclear fuel and fuel cycle facilities are in:
Web (HTML or PDF) versions of some regulatory guides are available for viewing or downloading. Those available are highlighted in the index to our Regulatory Guide Document Collection. All active final and draft guides are also available in NRC's Agency-wide Documents Access and Management System (ADAMS).
Other guidance documents that may be useful to licensees and other stakeholders are:
*These large documents can be obtained from the NRC Public Document Room.
Web (HTML) versions of some guidance documents are available in our NRC Formal Publication Collection. Some are also are available in ADAMS (see our table listing their availability). Also available in this collection on the Web site are guidance and information on many types of materials licenses in Volumes 1–20 of NUREG-1556. For additional information, see Uranium Recovery Regulations, Guidance, and Communications.

Communications
Generic communications are NRC's primary method of sending information to specific classes of licensees. There are several types:
Newsletters are another way of sending information to NRC licensees. The NMSS Licensee Newsletter (NUREG/BR-0117) is published quarterly and contains information about fuel cycle facilities.

Cumulative Effects of Regulation
Cumulative Effects of Regulation (CER) represents a continuing effort by the U.S. Nuclear Regulatory Commission (NRC) in conjunction with interested stakeholders to improve efficiency and effectiveness in the development of regulations and guidance.  A working definition of CER is contained in a March 2, 2011 paper to the Commission, SECY-12-0137, as follows:
"CER describes the challenges licensees, or other impacted entities such as State partners, face implementing new regulatory positions, programs, and requirements (e.g., rules, generic letters, backfits, inspections). CER is an organizational effectiveness challenge that results from a licensee or impacted entity implementing a significant number of new and complex regulatory actions stemming from multiple regulatory actions, within a limited implementation period and with available resources (which may include limited available expertise to address a specific issue). CER can potentially distract licensee or entity staff from executing other primary duties that ensure safety or security. CER can be aggravated if the new requirements lack clarity."
Major regulatory activities for fuel cycle facilities are summarized in a Gantt Chart entitled "Integrated Schedule of Regulatory Activities for Fuel Cycle."  The chart, shown below, lists the current regulatory activities, the major milestones, dates for meetings and public interactions, and the drivers.  This chart is used by the agency and industry to more effectively coordinate rulemaking and other regulatory improvement efforts to avoid scheduling conflicts, and to focus the work on important regulatory projects.
Integrated Schedule of Major Regulatory Activities for Fuel Cycle (updated 12-19-2016)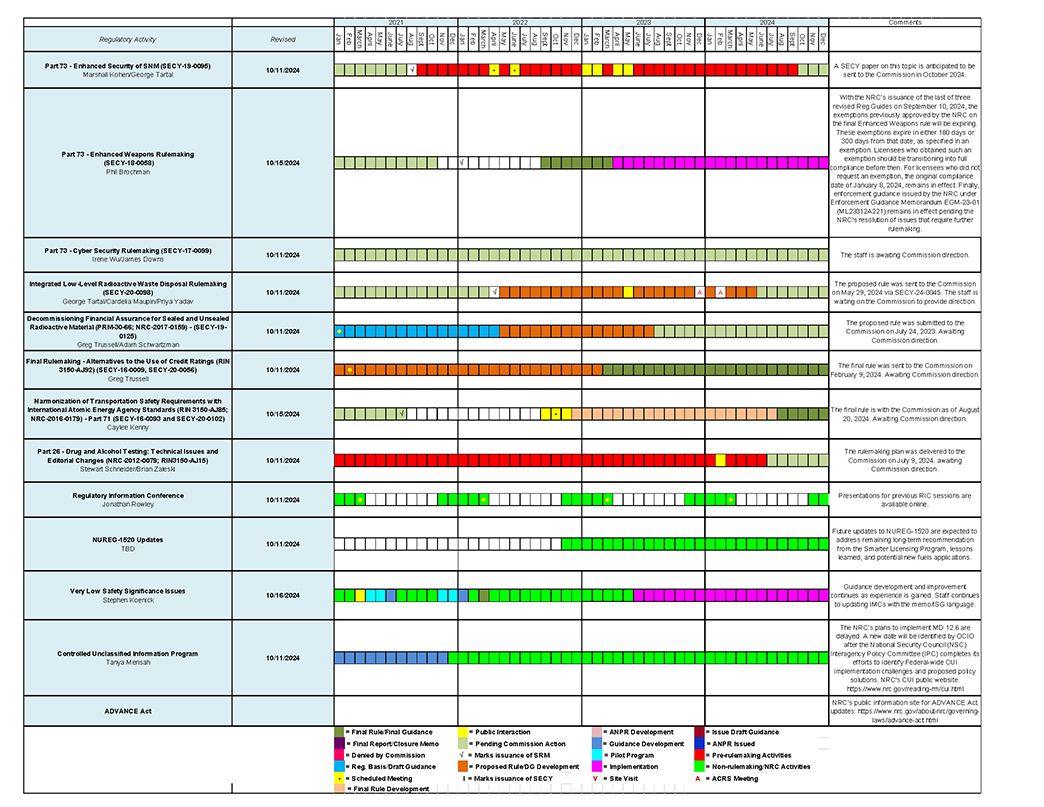 The Supplement to the Fuel Cycle Integrated Schedule, provides additional information on regulatory activities listed on the Gantt chart. The document contains a purpose statement for each activity, an overview of the project's status, a list of related documents, and information on the public interactions scheduled.
Public meetings on Cumulative Effects of Regulation are scheduled quarterly between the Division of Fuel Cycle Safety Safeguards and Environmental Review and stakeholders.  During these meetings the NRC staff provides updates on the CER Integrated Schedule for Fuel Cycle Facilities and seeks feedback from stakeholders.  These meetings support the Commission's direction in Staff Requirements Memorandum – SECY-12-0137 for NRC staff to work with stakeholders to address CER issues.  Information on upcoming meetings and summaries of past meetings are provided below.
This page includes links to files in non-HTML format. See Plugins, Viewers, and Other Tools for more information.
Upcoming Meetings
Title
March 29, 2017
Fuel Cycle Quarterly Meeting on Cumulative Effects of Regulations
Completed Meetings
Title
10/12/2016
October 12, 2016, Summary of NRC Public Meeting with NEI and Industry to Discuss Fuel Cycle Regulatory Activities
03/16/2016
March 16, 2016, Summary of NRC Public Meeting with NEI and industry to Discuss Fuel Cycle Regulatory Activities
09/23/2015
September 23, 2015, Summary of NRC Public Meeting with NEI and industry to Discuss Fuel Cycle Regulatory Activities
06/11/2015
June 11, 2015, Summary of NRC Public Meeting with NEI and Industry to Discuss Fuel Cycle Regulatory Activities
04/04/2015
March 4-5 2015, Summary of NRC Public Meeting with NEI and Industry to Discuss Fuel Cycle Regulatory Activities
09/22/2014
Summary of September 22-23, 2014, Meeting with the Nuclear Energy Institute And Stakeholders to Discuss Fuel Cycle Regulatory Activities and the Cumulative Effects of Regulation
12/11/2014
Summary of December 11, 2014, Meeting with the Industry and Stakeholders to Discuss Fuel Cycle Regulatory Activities and the Cumulative Effects of Regulation
06/09/2014
FCSS Cumulative Effects of Regulation June 2014 Quarterly Meeting
03/03-06/2014
Summary of NRC Meeting with NEI/Industry at the Industry Initiated Fuel Cycle Oversight Conference in Atlanta GA on March 3, 5, and 6, 2014
01/14/2014
FCSS Cumulative Effects of Regulation Meeting Summary for January 14, 2014 Public Meeting with Industry
10/01/2013
Summary of the October 1, 2013, Public Meeting to Discuss Cumulative Effects of Regulation on Fuel Cycle Facilities

Page Last Reviewed/Updated Tuesday, March 21, 2017