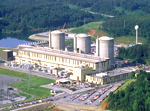 Action Matrix

The assessment program collects information from inspections and performance indicators (PIs) in order to enable the agency to arrive at objective conclusions about the licensee's safety performance. Based on this assessment information, the NRC determines the appropriate level of agency response, including supplemental inspection and pertinent regulatory actions ranging from management meetings up to and including orders for plant shutdown. The Action Matrix listed below reflects overall plant performance and is updated per the ROP Update Schedule.
The security cornerstone is an important component of the ROP, which includes various security inspection activities the NRC uses to verify licensee compliance with Commission regulations and thus ensure public health and safety. The Commission determined in the staff requirements memorandum (SRM) for SECY-04-0191, "Withholding Sensitive Unclassified Information Concerning Nuclear Power Reactors from Public Disclosure," dated November 9, 2004, that specific information related to findings and performance indicators associated with the security cornerstone will not be publicly available to ensure that security-related information is not provided to a possible adversary. Security inspection report cover letters will be available on the NRC Web site; however, security-related information on the details of inspection finding(s) will not be displayed.
For those plants that are in the Regulatory Response Column, Degraded Cornerstone Column, Degraded Performance Column, and Unacceptable Performance Column of the Action Matrix, notes are provided to explain the assessment inputs that direct the associated regulatory response. Additionally, information on the current level of inspection at each reactor unit (based on deviations from the Action Matrix, supplemental inspection status, etc.) is also found below. For any licensee in the Licensee Response Column, the expected agency inspection is the baseline program.
See the Cross Cutting Issues page for more information.
Action Matrix by Column
Licensee Response

(Baseline Inspection)
Regulatory
Response

(Response at
Regional Level)
Degraded Performance

(Response at Regional Level)
Multiple/Repetitive Degraded Cornerstone Column

(Response at Agency Level)
Unacceptable Performance

(Response at Agency Level)
Action Matrix by Region
---
Current data as of:
Page Last Reviewed/Updated Tuesday, November 05, 2019
Home
About Us
Popular Documents
Stay Connected