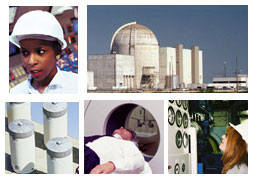 Operating Reactors Sub-Arena
The Nation's fleet of operating reactors comprises one of four sub-arenas that the staff of the U.S. Nuclear Regulatory Commission (NRC) identified in considering which areas of the reactor safety arena to target for greater use of risk information. This page summarizes the following aspects of the Operating Reactors Sub-Arena:
Objective
Make continuing, incremental improvements in rulemaking, licensing, and oversight of operating reactors, while focusing on implementing existing risk-informed and performance based activities.
This objective focuses on activities that are already in progress to risk-inform the operating reactor subarena, including completed rulemaking activities, guidance documents, and implementation of some initiatives.
The NRC will revisit and update this objective (as appropriate) once the industry has implemented the currently planned activities and feedback becomes available.

Basis
The risk-informed initiatives currently in progress were originally selected using screening criteria similar to those presented in the RPP. Consequently, the five activities (listed below) that support the goals for this subarena satisfy the following screening criteria:
The risk-informed initiatives that are currently underway help to improve the effectiveness and efficiency of the NRC's regulatory process, including improved safety and reduction of unnecessary regulatory burden.
Information and analytical models of operating reactors, particularly for at-power operations, exist and are fairly mature.
The cost-beneficial nature of several of the risk-informed initiatives is evidenced by their voluntary adoption by licensees.
No factors have been identified to date that would motivate changing the regulatory approach in the areas where risk-informed activities are already underway. Stakeholder feedback substantiates that there is no immediate need to initiate any new risk-informed initiatives, and that the NRC should focus on completing currently identified activities and allowing the industry time to implement those activities.
Goals and activities to meet the objective for this subarena will be performance-based, to the extent that they meet the following four criteria:
measurable parameters to monitor performance
objective criteria to assess performance
flexibility to allow licensees to determine how to meet the performance criteria
no immediate safety concern as a result of failure to meet the performance criteria
Risk-informed activities for operating reactors occur in five broad categories:
applicable regulations
licensing process
revised oversight process
regulatory guidance
risk analysis tools, methods, and data
The activities in these categories are derived from the Commission's policy statements and guidance, and include revisions to technical requirements in the regulations; risk-informed technical specifications; a new framework for inspection, assessment, and enforcement actions; guidance on other risk-informed applications (e.g., in-service inspections); and improved standardized plant analysis risk models.

Goals
The following goals are derived from the Commission's policy statements and guidance, which reflect the current phase of NRC and industry development, as well as the current implementation of risk-informed activities:
Finish the development of current risk-informed regulations (e.g., 10 CFR 50.46a rulemaking) and associated regulatory/staff guidance.
Implement existing NRC risk-informed activities [e.g., risk-informed technical specifications and pilots for 10 CFR 50.69 and the National Fire Protection Association (NFPA) Standard 805].
Encourage the industry to implement risk-informed rules and approved/endorsed activities.
Continue making incremental improvements to the established licensing, rulemaking, and oversight activities.
Modify/update established activities to account for lessons learned.

List of Risk-Informed and Performance-Based Activities
This list shows the ongoing licensing initiatives, projects, and activities that the staff of the U.S. Nuclear Regulatory Commission (NRC) has targeted for greater use of risk information in the Operating Reactors Sub-Arena within the Reactor Safety Arena:
This page includes links to files in non-HTML format. See Plugins, Viewers, and Other Tools for more information.
Regulatory Improvements for Production and Utilization Facilities Transitioning to Decommissioning Rulemaking
Summary Description
The NRC is developing a proposed rule to amend the regulations to provide an appropriate regulatory framework for nuclear power reactors transitioning from operations to decommissioning. The goals of this rulemaking are to provide for a safe, effective, and efficient decommissioning process; to reduce the need for license amendment requests and exemptions from existing regulations; and to address other decommissioning issues deemed relevant by the NRC. For several technical areas (emergency preparedness, physical security, cyber security, and offsite and onsite financial protection requirements and indemnity agreements), the NRC staff plans to adopt a graded approach that would align regulatory requirements with the reduction in radiological risk that occurs over time, while continuing to maintain safety and security. The NRC staff also plans to make several of the new requirements non-mandatory alternatives to the existing requirements. In November 2017, the NRC issued a Regulatory Basis Document for this rulemaking (82 FR 55954; November 27, 2017). In May 2018, the NRC staff submitted the proposed rule to the Commission for review and approval (ML18012A019). Specific details on current rulemaking activities are provided in the NRC's centralized rulemaking tracking and reporting system at NRC Rules and Petitions.
Ensure Force-on-Force (FoF) Scenarios Are Realistic and Reasonable
Summary Description
The staff of the NRC's Office of Nuclear Security and Incident Response has adjusted internal office processes to incorporate threat assessment information into the exercise scenario development process. This includes: increasing management attention to the exercise scenarios; increasing the use of intelligence analysis to benchmark tactics used by the mock adversary force; and inventorying tactics, techniques and procedures used during previous FOF exercises, categorizing based on complexity for use as a management tool during the scenario evaluation process.
Risk-Informed Compensatory Measures
Summary Description
Licensees would be able to use a more risk-informed process to determine implementing timeframes for security compensatory measures, based on site-specific threat conditions.
Consequence-based Security for Advanced Reactors
Summary Description
The NRC first issued its Policy Statement on the Regulation of Advanced Reactors on July 8, 1986, in Volume 51 of the Federal Register, page 24643 (51 FR 24643), with an objective to provide all interested parties, including the public, with the Commission's views concerning the desired characteristics of advanced reactor designs. The NRC revised the policy statement in 2008 (73 FR 60612; October 14, 2008) to specifically include attributes related to physical security that should be considered in advanced designs. In particular, the Commission observed that it would be in the interest of the public as well as the design vendors and the prospective license applicants to address security issues early in the design stage.
Accordingly, and with the resurgence in potential for applications for advanced reactor designs, the NRC is analyzing associated physical security requirements that are commensurate with the potential consequences to public health and safety and common defense and security from the possession and use of special nuclear material at these facilities.
Revision of the Emergency Preparedness Significance Determination Process
Summary Description
The NRC staff is evaluating possible changes to the process to ensure significance of emergency preparedness inspection findings are appropriately characterized using risk principles. The NRC initiated a focused self-assessment of the significance determination process for emergency preparedness-related licensee performance deficiencies, with the objective of determining whether improvements can or should be made to this established process.
Baseline Security Program Revision
Summary Description
The NRC staff will use risk-informed insights to ensure that the concept of "high assurance" of adequate protection, as found in NRC security regulations, is equivalent to "reasonable assurance" when it comes to determining what level of regulation is appropriate. Significant accomplishments to date include: revising the associated significance determination process (SDP) to appropriately categorize findings related to the handling of safeguards material; and incorporating risk-informed insights to revise the staff's site access authorization process to improve the program's efficiency and effectiveness, standardize requirements across the agency, and reduce the training requirement to a five-year periodicity.
State-of-the-Art Reactor Consequence Analyses
Summary Description
The state-of-the-art reactor consequence analyses (SOARCA) project was initiated to evolve our understanding of the consequences of important severe accident scenarios at selected U.S. nuclear power plants including Peach Bottom, a BWR in Pennsylvania; Surry, a PWR with a large dry containment in Virginia; and Sequoyah, a PWR with an ice condenser containment in Tennessee. The project has focused on detailed modeling of accident progression using MELCOR and offsite consequences using MACCS (MELCOR Accident Consequence Code System). MELCOR models the severe accident processes within the plant to the point of release of fission products to the environment. MACCS models the atmospheric transport and deposition of radionuclides released to the environment as well as emergency response and long-term protective actions, exposure pathways, dosimetry, and health effects for the affected population. Staff conducted uncertainty analyses (UA) of a subset of the scenarios to better understand the range of potential outcomes for these accidents and what drives key phenomena. Each UA included hundreds of simulations to account for uncertainty in MELCOR and MACCS input parameters and the results help corroborate the project's overall conclusions.
By its nature SOARCA focuses on the consequences of accidents rather than on their likelihood or on the many redundant safety systems, components, procedures, training, strategies, or the recently added backup mitigation equipment required following the Fukushima Dai-ichi nuclear power plant accident in Japan. Plant safety features and added mitigation capability drive down the likelihood of a severe accident but not necessarily the consequences. The study of the unmitigated consequences of a severe accident does not dismiss or under-value those safety features, rather it sheds light on their importance by providing insights into the possible consequences they are intended to prevent. SOARCA project's results, insights, computer code models, and modeling best practices have supported NRC rulemaking, licensing, and oversight efforts. SOARCA supported SECY-15-0137 and SECY-16-0041 which closed NRC's evaluation of post-Fukushima recommendations related to containment vents and hydrogen control and mitigation.
Probabilistic Methodologies for Component Integrity Assessment
Summary Description
The U.S. Nuclear Regulatory Commission (NRC) has considered insights drawn from probabilistic methodologies for component integrity assessment as part of its regulatory decision-making for several decades. The use of probabilistic methods moves the agency further towards risk-informed decision-making, which is a stated policy goal of the NRC. Furthermore, the NRC needs methodologies and procedures that enable it to perform an educated, thoughtful review of probabilistic methods proposed by the industry. The NRC currently has several active projects related to probabilistic methodologies for component integrity assessment: (1) maintenance and improved verification and validation of the Fracture Analysis of Vessels – Oak Ridge (FAVOR) code, (2) distribution, maintenance, and application of the Extremely Low Probability of Rupture (xLPR) code, and (3) development of a probabilistic fracture mechanics (PFM) Regulatory Guide.
The NRC and the U.S. nuclear industry have used probabilistic methods to inform their evaluation of postulated pressurized thermal shock (PTS) of reactor pressure vessels (RPVs) since the 1980s. In the original PTS rule (10 CFR 50.61) probabilistic evaluations provided complementary information to deterministic evaluations, and the reference temperature (RTPTS) screening criteria in 10 CFR 50.61 relate to a vessel failure frequency of ≈5×10-6 events / reactor operating year. Several PFM codes were used in the 1980s, including VISA (Vessel Integrity Simulation Analysis) and OCA-P (Over Cooling Accident - Pressurized). In the mid-1990s these codes were combined to generate the FAVOR code, which later provided computational support for the technical basis of the alternate PTS rule, 10 CFR 50.61a. FAVOR has since found other applications (e.g., risk-informed pressure-temperature limits, evaluation of nil-ductility transition [RTNDT] uncertainties, and evaluation of quasi-laminar flaws), although these other applications have not garnered generic regulatory acceptance. In a separate activity, NRC and the Electric Power Research Institute (EPRI) have collaboratively developed the xLPR Version 2 PFM code to assess the effects of active degradation mechanisms on nuclear power plant piping systems approved for leak-before-break (LBB). Specifically, beginning around the year 2000, primary water stress-corrosion cracking (PWSCC) was discovered in systems that had previously been approved for LBB based on the assumed absence of active degradation mechanisms, in accordance with Standard Review Plan 3.6.3. As a result of the discovery of the PWSCC mechanism, an extremely low probability of rupture could no longer be demonstrated by the deterministic methods outlined in NUREG-0800, but would instead need to be addressed probabilistically, for instance by using a PFM code such as xLPR. Technical development of the full production version of the code is now complete. Various activities were undertaken during the development phase to build confidence into the code, including a broad team of experts from diverse backgrounds, a rigorous quality assurance program, comprehensive verification and validation, and extensive documentation.
With the release of FAVOR v16.1 and xLPR v2, PFM use by the U.S. nuclear industry is expected to increase, as PFM may be used to develop a technical basis for relief requests, license amendments, and topical reports. Uncertainty is addressed differently in PFM when compared to deterministic fracture mechanics. In PFM, a single deterministic (usually conservative) analysis is replaced by many deterministic analyses that use randomly sampled inputs. Statistical analyses are then performed on the collection of outputs obtained to determine the probability of an event of interest. Unfortunately, it is difficult for NRC staff to reproduce or verify PFM calculations submitted by licensees, thus resulting in complex regulatory reviews. In particular, NRC staff has often perceived PFM codes as 'black boxes' with insufficient vetting of the models and the uncertainty framework. This has resulted in low confidence in the results of PFM analyses. As a result, the NRC has begun developing guidance for performing and documenting PFM analyses for regulatory applications. Specifically, NRC's Office of Nuclear Regulatory Research has been tasked with developing a PFM Regulatory Guide (RG). The process of developing the RG involves publication of a Technical Letter Report, a technical basis NUREG, and the Draft RG itself. The Technical Letter Report was published in September 2018 and is available at ML18235A013.
Implementing Lessons Learned from Fukushima
Summary Description
Following the accident at the Fukushima Dai-ichi Nuclear Plant in Japan, the NRC initiated actions to evaluate lessons learned and to implement appropriate changes in nuclear power plant designs and procedures. Initial recommendations were included in the Near Term Task Force (NTTF) report entitled "Recommendations for Enhancing Reactor Safety in the 21st Century." Several of the items (e.g., Recommendation 1 regarding improving the regulatory framework and recommendation 2.1 on re-evaluating seismic and flooding hazards) include incorporation of risk-informed, performance-based approaches into NRC activities. The status and program plans for items identified for longer term evaluations were reported to the Commission in SECY 12-0095. Recommendation 1 was closed by the Commission without approving staff proposed improvement activities in SRM-SECY-13-0132. For NTTF recommendation 2.1-Seismic, some licensees are using a probabilistic seismic hazard approach in their responses to NRC's request for updated seismic hazard information. More information is available from the Japan Lessons Learned Web site.
Accident Sequence Precursor (ASP) Program
Summary Description
In 1979, the U.S. Nuclear Regulatory Commission (NRC) established the ASP Program in response to the Risk Assessment Review Group report issued in September 1978 (NUREG/CR-0400, "Risk Assessment Review Group Report to the U.S. Nuclear Regulatory Commission"). The evaluations performed for events that occurred between 1969 and 1979 were the first efforts in this type of analysis. The ASP Program systematically evaluates U.S. nuclear power plant operating experience to identify, document, and rank operational events by calculating a conditional core damage probability (CCDP) or an increase in core damage probability (ΔCDP).
The ASP Program identifies potential precursors by reviewing operational events from licensee event reports on a plant unit basis. An operational event can be one of two types: (1) the occurrence of an initiating event, such as a reactor trip or a loss of offsite power, with or without any subsequent equipment unavailability or degradation; or (2) a degraded plant condition characterized by the unavailability or degradation of equipment without the occurrence of an initiating event.
For the first type of event, the staff calculates a CCDP. This metric represents a conditional probability that a core damage state is reached given the occurrence of the observed initiating event (and any subsequent equipment failures or degradations). For the second type of event, the staff calculates a ΔCDP. This metric represents the increase in core damage probability for the time period during which a component or multiple components were deemed unavailable or degraded.
Starting in 2006, to minimize overlap and improve efficiency, Significance Determination Process (SDP) results have been used in lieu of independent ASP analyses to the extent practical and consistent with the overall objectives of both programs. More information regarding the details of this change is documented in NRC Regulatory Issue Summary 2006-24.
The ASP Program is one of three agency programs that assess the risk significance of issues and events. The other two programs are the Reactor Oversight Process and the event response evaluation process, as defined in Management Directive 8.3, "NRC Incident Investigation Program." In contrast to the other two programs, a comprehensive and integrated risk analysis under the ASP Program includes all anomalies observed at the time of the event or discovered after the event. These anomalies may include unavailable and degraded plant structures, systems, and components (SSCs); human errors; and/or an initiating event (e.g., reactor trip). An unavailable or degraded SSC does not have to be a performance deficiency (PD) or an analyzed condition in the plant design basis, as required in the SDP. The ASP Program analyzes concurrent, multiple PDs or degraded conditions together, unlike the SDP that analyzes PDs individually.
Design Compliance Enforcement Discretion (DCED): a Risk-Informed Approach for Addressing Low Risk, Low Safety Significance Design Compliance Issues
Summary Description
The agency is developing a risk-informed approach to resolve licensee design issues that render a technical specification structure, system or component inoperable and are determined to be of low risk/low safety significance. The goal is to provide a tool to the staff that provides a risk-informed alternative to enforcement of technical specification compliance when it can be demonstrated that the non-compliance does not pose an undue risk to public health and safety.
The staff envisions developing a risk-informed process that would ensure that the level of licensee and staff resources applied to a design non-conformance issue correlate to the potential risk and safety significance of the issue. The staff envisions that this approach would focus first on evaluating the risk and safety significance of the non-compliance. If the issue is determined to be of low risk and low safety significance, then the staff interaction with the licensee would focus on establishing a reasonable timetable for corrective action by the licensee combined with implementing appropriate interim compensatory measures that would maintain adequate safety while the corrective action is being taken. The approach would include enforcement discretion (possibly for a long duration) to provide the licensee adequate time for implementing corrective action. This approach is envisioned to be an improvement over the current practice in that it would eliminate the need for urgent action to be taken for low risk significance compliance issues.
This approach is consistent with the NRC's Enforcement Policy (NUREG-1600, "General Statement of Policy and Procedure for NRC Enforcement Action", Section 1.5 "Adequate Protection Standard," which states:
"Adequate protection of the public health and safety and assurance of the common defense and security and protection of the environment are the NRC's fundamental regulatory objectives. Compliance with NRC requirements plays a critical role in giving the NRC confidence that safety and security are being maintained. While adequate protection is presumptively assured by compliance with NRC requirements, circumstances may arise where new information reveals that an unforeseen hazard or security issue or security event exists or that a substantially greater potential exists for a known hazard to occur. In such situations, the NRC has the statutory authority to require action by licensees, their employees and contractors, and certificate holders above and beyond existing regulations to maintain the level of protection necessary to avoid undue risk to public health and safety, and to ensure security of materials.
The NRC also has the authority to exercise discretion to permit continued operations — despite the existence of a noncompliance — where the noncompliance is not significant from a risk perspective and does not, in the particular circumstances, pose an undue risk to public health and safety. When noncompliance with NRC requirements occurs, the NRC must evaluate the degree of risk posed by that noncompliance to determine whether immediate action is required. If the NRC determines that the noncompliance itself is of such safety significance that adequate protection is no longer provided, or that the noncompliance was caused by a failure of licensee controls so significant that it calls into question the licensee's ability to ensure adequate protection, the NRC may demand immediate action, up to and including a shutdown or suspension of licensed activities. Based on the NRC's evaluation of noncompliance, the appropriate action could include refraining from taking any action, taking specific enforcement action including the use of civil penalties, issuing Orders, or providing input to other regulatory actions or assessments, such as increased NRC oversight of a licensee's activities. Since some requirements are more important to safety than others, the NRC endeavors to use a risk-informed approach when applying NRC resources to the oversight of licensed activities, including enforcement activities."
Probabilistic Flood Hazard Assessment (PFHA)
Summary Description
The PFHA research program is a wide-ranging effort to establish a sound technical basis for transitioning flood hazard assessment guidance and tools from deterministic to probabilistic approaches. The PFHA research is guided by a joint NRO-NRR user need that endorsed a Research Plan developed jointly by RES, NRR, and NRO staff. A copy of the plan (cover sheet and final plan) was provided to the Commission in 2014. RES has been implementing the research plan for approximately five years.
By supporting development of risk-informed licensing and oversight guidance and tools for assessing flooding hazards and consequences, this research addresses a significant gap in the probabilistic basis for external hazards since seismic and wind hazard assessments are currently conducted on a probabilistic basis. The PFHA research program is designed to support both new reactor licensing (e.g. design basis flood hazard assessments for new sites or facilities) and oversight of operating reactors (e.g. significance determination process analyses for evaluating inspection findings or event assessments involving flood hazards, flood protection, or flood mitigation at operating facilities).
Risk Assessment of Operation Events (RASP Handbook)
Summary Description
Provide methods and guidance for the risk-informed analysis of operational events and licensee performance issues including internal and external events during both full power and low-power/shutdown operations.
Risk-Informed analyses are performed in response to needs identified in: Management Directive 8.3, "Incident Investigation Program"; Reactor Oversight Process; the Significance Determination Process (SDP); and the Accident Sequence Precursor (ASP) program. State-of-the-practice methods and guidance support risk analysts and senior reactor analysts from various NRC offices (NRR, RES, NRO, and the Regions) that use risk analysis software (SAPHIRE) and plant-specific PRA model (SPAR models).
The Risk Assessment Standardization Project (RASP) handbook and associated internal web site provides guidance and a description of the methods the NRC staff uses to achieve consistent results in the performance of risk-informed studies of operational events and licensee performance issues. It is updated periodically based on user comments and insights gained from field application. The handbook consists of four volumes, designed to address internal events analysis, external events analysis, Standardized Plant Assessment Risk (SPAR) model reviews, and shutdown event analysis. The handbook incorporates best practices gleaned from experience on accident precursor events performed in ASP reviews and other insights gained from SDP analyses.
Maintenance and Development of the Systems Analysis Programs for Hands-on Analysis Integrated Reliability Evaluations (SAPHIRE) Code
Summary Description
The NRC has developed and maintains the SAPHIRE computer code for performing probabilistic risk analyses (PRAs). SAPHIRE offers state-of-the-art capability for assessing the risk associated with core damage frequency (Level 1 PRA) and the risk from containment performance and radioactive releases (Level 2 PRA). SAPHIRE supports the agency's risk-informed activities, which include the Standardized Plant Analysis Risk (SPAR) model development plan, the risk assessment standardization project, the Significance Determination Process (SDP), Accident Sequence Precursor (ASP) program, risk-informing 10 CFR Part 50, vulnerability assessment, advanced reactor assessment, operational experience, generic issues, and regulatory backfit.
Standardized Plant Analysis Risk Models (SPAR)
Summary Description
The SPAR models provide agency risk analysts with an independent risk assessment tool to support a variety of risk-informed agency programs, including the Reactor Oversight Program (ROP) and the Accident Sequence Precursor (ASP) program. SPAR models are built with a standard modeling approach, using consistent modeling conventions, that enables staff to easily use the models across a variety of U.S. Nuclear Power Plant (NPP) designs. Unlike industry PRA models, SPAR models are run on a single software platform, the Systems Analysis Programs for Hands-on Integrated Reliability Evaluations (SAPHIRE) computer code. The staff currently maintains and updates the 75 SPAR models representing 99 commercial NPPs. The scope of every SPAR model includes logic modeling covering internal initiating events at power through core damage (i.e., Level-1 PRA model). A portion of the SPAR models also include external hazard (e.g., seismic and high wind), internal fire, and shutdown models.) The staff develops and maintains SPAR models for both operating reactors and new reactor designs (e.g., AP1000).
Full-Scope Site Level 3 PRA
Summary Description
As directed in SRM-SECY-11-0089, "Options for Proceeding with Future Level 3 Probabilistic Risk Assessment (PRA) Activities," the staff is conducting a full-scope multi-unit site Level 3 PRA that addresses all internal and external hazards; all plant operating modes; and all reactor units, spent fuel pools, and dry cask storage.
The full-scope site Level 3 PRA project includes the following objectives:
Develop a Level 3 PRA, generally based on current state-of-practice methods, tools, and data, that (1) reflects technical advances since completion of the NUREG-1150 studies, and (2) addresses scope considerations that were not previously considered (e.g., low power and shutdown, multi-unit risk, and spent fuel storage).
Extract new risk insights to enhance regulatory decision making and help focus limited agency resources on issues most directly related to the agency's mission to protect public health and safety and the environment.
Enhance PRA staff capability and expertise and improve documentation practices to make PRA information more accessible, retrievable, and understandable.
Obtain insight into the technical feasibility and cost of developing new Level 3 PRAs.
Consistent with the objectives of this project, the Level 3 PRA study is based on current state of-practice methods, tools, and data. However, there are several gaps in current PRA technology and other challenges that require advancement in the PRA state-of-practice. The general approach to addressing these challenges for the Level 3 PRA study is to primarily rely on existing research and the collective expertise of the NRC's senior technical advisors and contractors, and to perform limited new research only for a few specific technical areas (e.g., multi-unit risk).
Based on a set of site selection criteria and with the support of the NEI, a reference site was selected for the Level 3 PRA study. The reference site contains two four-loop Westinghouse PWRs with large dry containments. The Level 3 PRA project team is leveraging the existing and available information on the reference site and the corresponding licensee PRAs, in addition to related research efforts (e.g., SOARCA), to enhance efficiency in performing the study.
The Level 3 PRA project team is using the following NRC tools and models for performing the Level 3 PRA study:
SAPHIRE, Version 8.
MELCORE Severe Accident Analysis Code.
MELCOR Accident Consequence Code System, Version 2 (MACCS).
In addition, the Level 3 PRA study is being developed consistent with many of the modeling conventions used for NRC's SPAR models.
Data Collection for Human Reliability Analysis (HRA)
Summary Description
Consistent with the Commission's policy statements on the use of probabilistic risk assessment (PRA) and for achieving an appropriate PRA quality for NRC risk-informed regulatory decision-making, the NRC has ongoing activities to improve the quality of human reliability analysis (HRA). The adequacy of data available for HRA is a concern on the credibility and consistency of human error probability estimates. To address this need, NRC's Office of Nuclear Regulatory Research (RES) has developed the Scenario Authoring, Characterization, and Debriefing Application (SACADA) system to collect operator performance information in simulator exercises. RES has collaborated with nuclear power plants and research institutes to use the SACADA system to collect their simulator training, examination, and experiment data. In addition, RES reviews literature and operations experience, and plans to collaborate with nuclear power plants to collect the human performance information of actions performed outside of the main control room. This includes actions to implement FLEX strategies to support the data needs identified by the Office of Nuclear Reactor Regulation (NRR).
Human Reliability Analysis (HRA) Methods and Practices
Summary Description
The purpose of the HRA method effort is to improve the methods for regulatory applications. This enhancement involves improving the consistency amongst HRA practitioners in the use of methods and developing guidance on the rigor needed for quantifying human reliability given the scarcity of empirical data available to evaluate human performance. The ongoing activities include:
Developing the Integrated Human Event Analysis System (IDHEAS) for risk analyses of all nuclear-related HRA applications (SRM-M061020)
Developing IDHEAS application for event and condition analysis (IDHEAS-ECA)
Regulatory Guide (RG) 1.200 provides an acceptable approach for determining the technical adequacy of probabilistic risk assessment (PRA) results for risk-informed regulation. HRA is a key element in the PRA. Because various HRA methods often have different assumptions and approximations that could lead to significant variability in results affecting regulatory decisions, enhancing the consistency and quality of HRA could improve regulatory decision-making.
National Fire Protection Association (NFPA) Standard 805
Summary Description
NFPA 805 enables licensees to use PRA inputs generated using their PRA models to comply with fire protection regulations on a risk-informed manner. In 2004, the Commission approved a voluntary risk-informed and performance-based fire protection rule for existing nuclear power plants. The rule endorsed NFPA consensus standard NFPA 805, "Performance-Based Standard for Fire Protection for Light Water Reactor Electric Generating Plants." A safety evaluation in December 2010 approved the Oconee NFPA 805 pilot application. In addition, the NEI developed NEI 04-02, "Guidance for Implementing a Risk-Informed, Performance-Based Fire Protection Program Under 10 CFR 50.48(c)," dated September 2005. The staff endorsed NEI 04-02 in RG 1.205, "Risk-Informed, Performance-Based Fire Protection for Existing Light-Water Nuclear Power Plants," issued in May 2006. To date, nearly half of the nuclear power units operating in the United States, including those that participated in the pilot program, have committed to transition to NFPA 805 as their licensing basis. The Oconee Nuclear Station (Oconee) and Shearon Harrison Nuclear Power Plant (Shearon Harris) were the pilot plants for 10 CFR 50.48(c). In June 2010, a safety evaluation approved the Shearon Harris NFPA 805 pilot application. A safety evaluation in December 2010 approved the Oconee NFPA 805 pilot application. NEI 04-02 was revised (Revision 2) in April 2008 and the staff revised RG 1.205 (Revision 1) in December 2009 to reflect lessons learned from the pilot reviews. The staff developed NUREG-800, "Standard Review Plan for the Review of Safety Analysis Reports for Nuclear Power Plants: LWR Edition," Chapter 9, "Auxiliary Systems," Section 9.5.1.2, "Risk-Informed, Performance-Based Fire Protection Program Review Responsibilities," issued December 2009, to provide staff guidance for the review of licensee applications to transition to NFPA 805. In addition, the NRC developed a Frequently Asked Question process to review and establish a preliminary staff position on NFPA 805 application, review, and implementation issues.
Lessons learned from the pilot applications indicated that the staff and the industry underestimated the complexity and resources necessary to complete the reviews. In SRM-SECY-11-0033, "Proposed NRC Staff Approach to Address Resource Challenges Associated with Review of a Large Number of NFPA 805 License Amendment Requests," dated April 20, 2011, the Commission approved the staff's recommendation to increase resources to review NFPA 805 applications, develop a staggered review process, and modify the current enforcement policy. The NRC sent the revised enforcement policy to the Commission in SECY-11-0061, "A Request to Revise the Interim Enforcement Policy for Fire Protection Issues on 10 CFR 50.48(c) to Allow Licensees to Submit License Amendment Requests in a Staggered Approach," dated April 29, 2011 and approved in SRM SECY-11-0061, dated June 10, 2011. To enhance the efficiency and effectiveness of the NFPA 805 application reviews, the industry developed an application template and the staff developed a safety evaluation template. The staff has received 29 applications to date and does not expect any additional applications to be submitted.
Assess Debris Accumulation on Pressurized Water Reactor (PWR) Sump Performance, Generic Safety Issue (GSI)-191
Summary Description
This generic issue concerns the possibility that following a Loss of Coolant Accident (LOCA) in a PWR, debris accumulation on the containment sump strainer(s) may inhibit flow to the Emergency Core Cooling System (ECCS) and the Containment Spray System. An additional concern is that debris may penetrate or bypass the sump strainer(s) and block flow to the core.
As described below, the staff has identified several options including risk-informed options to address this generic safety issue. When using the risk-informed option to disposition GSI-191, the licensees use inputs from their PRA models which may including bounding analyses. Also, when using risk-informed options, licensees must address all five principles of risk-informed decision making in Regulatory Guide (RG) 1.174.
In SECY-12-0093, dated July 9, 2012, the staff identified several options for resolving GSI-191. These options included two risk-informed approaches. One approach, piloted by South Texas Project (STP), would address both strainer and in-vessel effects using risk. The other approach would use risk for in-vessel effects and would resolve strainer issues deterministically.
The Commission endorsed the staff's proposed options for resolving GSI-191 in SRM-SECY-12-0093, dated December 14, 2012. Since the Commission's endorsement, 11 licensees (18 units) have proposed to implement a risk-informed approach to address GSI-191 concerns. In consideration of the additional time required to implement risk informed approaches and/or complete further testing, subject licensees have implemented mitigative measures to address the potential for debris blockage of the strainer or reactor core.
SRM-SECY-12-0093, Title 10 of the Code of Federal Regulations (CFR) Section 50.46c, addresses ECCS performance during a LOCA. SECY-12-0034, dated January 7, 2013, directed that a provision allowing NRC licensees, on a case-by-case basis, to use risk informed alternatives should be included as part of proposed revisions to 10 CFR 50.46c. The proposed rule containing this provision was published in the Federal Register on March 24, 2014 (79 FR 16106).
In accordance with SRM-COMSECY-13-006, dated May 9, 2013, draft guidance related to implementation of the GSI-191 risk informed alternative was developed in parallel with its review of the STP pilot submittal, and published it in the Federal Register for public comment on April 20, 2015 (75 FR 21658).
Develop Risk-Informed Improvements to Standard Technical Specifications (STS)
Summary Description
The staff continues to work on the risk-informed technical specifications (RITS) initiatives to add a risk-informed component to the STS. The following summaries highlight these activities:
Initiative 1, "Modified End States," would allow licensees to repair equipment during hot shutdown rather than cold shutdown. The Topical Reports (TRs) supporting this initiative for boiling water reactor (BWR), Combustion Engineering (CE), Babcock & Wilcox (B&W), and Westinghouse Electric Company (Westinghouse) plants have been approved, and revisions to the BWR, CE, B&W, and Westinghouse STS are available at ADAMS Accession Nos. ML093570241 and ML103360003.
Initiative 4b, "Risk-Informed Completion Times," allows licensees to use risk insights to extend the "completion times" by which an inoperable SSC controlled by technical specifications must be restored. The risk-informed completion time could be shorter than that required by technical specifications given actual plant conditions, or could be much longer, up to a "backstop" of 30 days. From a safety perspective, the program uses a real-time view of plant conditions to determine an appropriate time for key equipment to be out of service and focuses plant attention on issues of the highest safety significance. Licensees also benefit from the ability to schedule maintenance activities over a longer time period if appropriate. The plant-specific Probabilistic Risk Analysis (PRA) model is utilized to generate the risk metrics following a change in the plants configuration resulting in a quantifiable change in risk allowing for a flexible completion time for the Conditions in the Technical Specifications of the nuclear plant.
As reported previously in SECY-07-0191, "Implementation and Update of the Risk-Informed and Performance-Based Plan," dated October 31, 2007, the staff issued the license amendment for the first pilot plant, South Texas Project (STP), in July 2007. In July 2010, Southern Nuclear Company (SNC) submitted a letter of intent for Vogtle Electric Generating Plant (VEGP) (Units 1 and 2) to implement RITS Initiative 4b. The NRC granted an associated fee waiver request and received a pilot application in September 2012. The NRC staff completed the review of the application in 2017. The associated Technical Specification Task Force guidance (TSTF-505) to revise the STS was published in March 2012. Five additional applications to implement TSTF-505 have been received and are currently being reviewed by the technical staff. The five additional applications were received on November 25, 2013; December 5, 2014; December 23, 2014; July 31, 2015 and February 25, 2016. The five additional applications were not classified as "pilot applications."
Initiative 6, "Add Actions to Preclude Entry into LCO 3.0.3," modifies technical specification action statements for conditions that result in a loss of safety function related to a system or component included within the scope of the plant technical specifications. The staff approved the industry's TR for CE nuclear power plants (Revision 2 to WCAP-16125-NP-A, "Justification for Risk-Informed Modifications to Selected Technical Specifications for Conditions Leading to Exigent Plant Shutdown") in August 2010. The associated Technical Specification Task Force (TSTF) guidance (Revision 5 of TSTF-426) to revise the CE STS was submitted for NRC review by letter dated November 2011. Based on the approved CE TR, the industry has also submitted requests to revise the B&W STS (Revision 0 of TSTF-538) and the STS for BWRs (Revision 0 of TSTF-540) in March 2012 and May 2012, respectively. However, these TSTFs were withdrawn per letters dated January 6, 2014, and October 6, 2014, after the NRC requested additional information and the participating licensees decided not to pursue these initiatives.
Implement 10 CFR 50.69: Risk-Informed Categorization and Treatment of Structures, Systems and Components for Nuclear Power Reactors
Summary Description
In 1998, the Commission decided to consider issuing new regulations that would provide an alternative risk-informed approach for special treatment requirements in the current regulations for power reactors. The NRC published the final rule (10 CFR 50.69, "Risk-Informed Categorization and Treatment of Structures, Systems and Components [SSCs] for Nuclear Power Reactors") in the Federal Register on November 22, 2004 (69 FR 68008). The NRC staff issued Regulatory Guide (RG) 1.201, Revision 1, "Guidelines for Categorizing Structures, Systems, and Components in Nuclear Power Plants According to Their Safety Significance," in May 2006. The provisions of 10 CFR 50.69 allow for the adjustment of the scope of SSCs subject to special treatment requirements based on an integrated and systematic risk-informed process. Special treatment refers to those requirements that provide increased assurance beyond normal industry practices that SSCs perform their design basis functions (e.g., quality assurance, testing, inspection, condition monitoring, assessment, and evaluation). For SSCs categorized as low safety significance (LSS), alternative treatment requirements may be implemented in accordance with the regulation. For SSCs determined to be of high safety significance (HSS), requirements may not be changed. 10 CFR 50.69 and its implementation relies on risk insight and metrics, such as importance measures, to categorize the safety significance of systems, structures, and components (SSCs). The plant-specific Probabilistic Risk Analysis (PRA) model is utilized to generate the risk metrics used for the categorization resulting in a quantifiable method of determining the risk significance of the components on the safe operation of the nuclear plant.
By letter dated December 6, 2010, the Southern Nuclear Company (SNC) informed the NRC of its intent to submit a license amendment request for implementation of 10 CFR 50.69 for Vogtle Electric Generating Plant (VEGP) Units 1 and 2, and requested pilot plant status and a waiver of review fees. By letter dated June 17, 2011, the staff informed SNC that the NRC granted the fee waiver request for the proposed licensing action in accordance with 10 CFR 170.11(b). SNC submitted a pilot plant application to implement 10 CFR 50.69 on August 31, 2012. By letter dated December 17, 2014, the NRC staff issued a License amendment to SNC revising the licensing basis for the VEGP by adding license conditions that allow for the voluntary implementation of 10 CFR 50.69. Lessons learned from the application review will be used to revise the associated industry guidance and RG 1.201.
In addition, the NRC staff issued draft Inspection Procedure 37060, "10 CFR 50.69 Risk Informed Categorization and Treatment of Structures, Systems, and Components Inspection," on February 16, 2011. The Nuclear Energy Institute (NEI) and one licensee provided comments on the procedure. The NRC staff addressed the comments and issued the revised inspection procedure in 2011. The NRC will focus its inspection efforts on the most risk-significant aspects related to implementation of 10 CFR 50.69 (i.e., proper categorization of SSCs and treatment of Risk-Informed Safety Class [RISC]-1 and RISC-2 SSCs).
Graded Approach to the Use of Safety Significance in the Low Safety Significance Issue Resolution Process
Summary Description
NRC is exploring how it can enhance existing processes and procedures to better focus licensee and NRC regulatory attention on design and operational issues commensurate with their importance to public health and safety and common defense and security. This effort is sometimes referred to as the Low Safety Significance Issue Resolution process. It will utilize quantitative or qualitative risk insights. These risk insights may be gleaned from an assessment using the risk triplet (What can go wrong? How likely is it? What are the consequences?) or when appropriate, PRA models. Issues potentially impacting safety are promptly identified, fully evaluated, and promptly addressed, commensurate with their safety significance. However, the NRC does not always have clear guidance on evaluating significance prior to the expenditure of significant resources in evaluating an issue. For example, as a result of NRC an inspection, issues and conditions are identified that appear to be potential violations of governing requirements. Sometimes, there is a lack of clarity in the plant licensing basis that results in a difference in view between the licensee and the NRC as to whether the licensee is in compliance with its licensing basis. While these situations represent the exception, in practice, resolving these issues through the NRC's current processes has been resource intensive, inefficient, and untimely in many cases. The COM-106 program is the procedure by which the Office of Nuclear Reactor Regulation provides information assistance to other NRC offices and is currently being enhanced. The COM-106 program routinely fields unresolved questions from the NRC Regional Offices and has experienced such examples in the past. For some licensing basis issues, past case studies demonstrate an imbalanced expenditure of time, resources, and effort compared to the underlying issue's significance to public health and safety, and common defense and security.
Guidance for Unattended Opening Evaluations
Summary Description
See FY 2019.
Risk-Informed Adversary Timeline Calculations
Summary Description
See FY 2019.
Transition from Physical Security Plan to Safeguards Contingency Plan
Summary Description
See FY 2019.
The Multi-Layered National Security Framework and Design Basis Threat
Summary Description
See FY 2019.
Emergency Preparedness (EP) Program Review 24-Month Frequency Performance Indicators Development to Satisfy 10 CFR 50.54(t) Requirements
Summary Description
See FY 2019.
Home
About Us
Popular Documents
Stay Connected