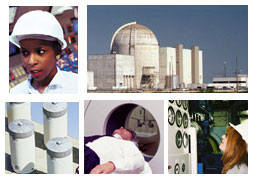 Spent Fuel Storage and Transportation Sub-Arena
Spent fuel storage and transportation comprises one of three sub-arenas that the staff of the U.S. Nuclear Regulatory Commission (NRC) identified in considering which areas of the waste management arena to target for greater use of risk information. This page summarizes the following aspects of this sub-arena:
Objective
Utilize risk information on a case-by-case basis to prioritize and address regulatory initiatives in spent fuel storage and radioactive materials transportation.

Basis
SECY-99-100 and SECY-04-0182, as well as the related staff requirements memorandum (SRM), provide the conceptual framework for risk-informing the NRC's waste activities. Guidance on how to apply this framework is provided in "Risk-Informed Decision-Making for Material and Waste Applications". In particular, individual risk-informed applications must meet the established screening criteria.
In this subarena, the NRC staff is limited in its ability to risk-inform the agency's regulatory activities because it is not cost-beneficial to perform risk-assessment of each of the numerous storage or transport designs. As a result, the agency has conducted (or sponsored) risk assessments for a few selected designs. In addition, the staff may apply risk assessments to specific activities on a case-by-case basis, provided that the screening criteria are met. For example, the staff has completed and documented a pilot study PRA of a dry cask storage facility, and determined that the risk from that facility was negligibly small.
The goal described below meets the screening criterion for cost/benefit by assessing risk impacts by judgment.

Goals
The staff has established the following goal for risk-informed and performance-based activities in this subarena:
Produce updated versions of NUREG-1536, "Standard Review Plan for Dry Cask Storage Systems," and NUREG-1567, "Standard Review Plan for Spent Fuel Dry Storage Facilities."

List of Risk-Informed and Performance-Based Activities
This list shows the ongoing licensing initiatives, projects, and activities that the staff of the U.S. Nuclear Regulatory Commission (NRC) has targeted for greater use of risk information in the Spent Fuel Storage and Transportation Sub-Arena within the Reactor Safety Arena:
This page includes links to files in non-HTML format. See Plugins, Viewers, and Other Tools for more information.
Enhance Regulatory Framework for Extended Storage and Transportation
Summary Description
Extended Storage and Transportation (EST) Regulatory Program Review responds to the Commission's direction in SRM-COMSECY-10-0007 to conduct a thorough review of the regulatory programs for spent nuclear fuel (SNF) storage and transportation, and to evaluate their adequacy for ensuring safe and secure storage of SNF for extended periods of time.
FY 2015
The NRC staff identified and addressed potential technical and/or regulatory issues associated with the EST of spent nuclear fuel (SNF). The staff completed its evaluation of the Priority 1 and 2 technical issues identified in its report, "Identification and Prioritization of the Technical Information Needs (TIN) Affecting Potential Regulation of Extended Storage and Transportation of Spent Nuclear Fuel," hereinafter called the TIN Report.
FY 2016
As described in SECY-16-0067, this activity has been completed. The staff determined that aging issues will be addressed through the dry cask storage license renewal framework and the EST program can be closed with no adverse impact on safety, security, or environmental protection.
Risk-Informed Basis
Infrastructure development in support of risk-informed regulations.
Regulatory Framework for Spent Fuel Storage and Transportation
Summary Description
The goal of this effort was to develop a framework for spent fuel storage to enable the staff to perform a more risk-informed regulatory review, improve guidance, streamline casework activities, help assess 10 CFR 72.48 changes, and evaluate requests for exemptions to the regulation while maintaining appropriate margins of safety and security. NMSS/DSFM developed a scoping and implementation plan for risk-informing storage regulatory activities. Several tasks in this plan have been completed. These include identifying applicable risk information and defining the application of defense-in-depth for dry cask storage. NMSS/DSFM engaged stakeholders and gathered their input. This input drove the decision to develop the framework based on a graded approach and not a risk-informed approach.
FY 2015
After meetings with internal and external stakeholders and consideration of the relatively low risk of dry cask storage based on previously conducted industry and NRC probabilistic risk assessments, the NRC determined a better path forward was to develop a graded approach based on safety functions and defense-in-depth considerations.
FY 2016
This risk-informed activity has been discontinued, the staff is instead developing a graded approach.
Page Last Reviewed/Updated Tuesday, February 07, 2017