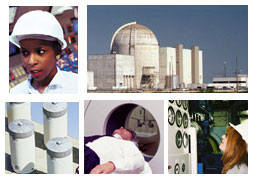 Spent Fuel Storage and Transportation Sub-Arena
Spent fuel storage and transportation comprises one of three sub-arenas that the staff of the U.S. Nuclear Regulatory Commission (NRC) identified in considering which areas of the waste management arena to target for greater use of risk information. This page summarizes the following aspects of this sub-arena:
This page includes links to files in non-HTML format. See Plugins, Viewers, and Other Tools for more information.
Objective
Utilize risk information on a case-by-case basis to prioritize and address regulatory initiatives in spent fuel storage and radioactive materials transportation.

Basis
SECY-99-100 and SECY-04-0182, as well as the related staff requirements memorandum (SRM), provide the conceptual framework for risk-informing the NRC's waste activities. Guidance on how to apply this framework is provided in "Risk-Informed Decision-Making for Material and Waste Applications". In particular, individual risk-informed applications must meet the established screening criteria.
In this subarena, the NRC staff is limited in its ability to risk-inform the agency's regulatory activities because it is not cost-beneficial to perform risk-assessment of each of the numerous storage or transport designs. As a result, the agency has conducted (or sponsored) risk assessments for a few selected designs. In addition, the staff may apply risk assessments to specific activities on a case-by-case basis, provided that the screening criteria are met. For example, the staff has completed and documented a pilot study PRA of a dry cask storage facility, and determined that the risk from that facility was negligibly small.
The goal described below meets the screening criterion for cost/benefit by assessing risk impacts by judgment.

Goals
The staff has established the following goal for risk-informed and performance-based activities in this subarena:
Produce updated versions of NUREG-1536, "Standard Review Plan for Dry Cask Storage Systems," and NUREG-1567, "Standard Review Plan for Spent Fuel Dry Storage Facilities."

List of Risk-Informed and Performance-Based Activities
This list shows the ongoing licensing initiatives, projects, and activities that the staff of the U.S. Nuclear Regulatory Commission (NRC) has targeted for greater use of risk information in the Spent Fuel Storage and Transportation Sub-Arena within the Waste Management Arena:
Regulatory Framework for Spent Fuel Storage and Transportation
Summary Description
As shown in existing probabilistic risk assessment studies, the risk associated with dry cask storage is very low. The goal of this effort was to develop a framework for spent fuel storage to enable the staff to perform a more risk-informed regulatory review, improve guidance, streamline casework activities, help assess 10 CFR 72.48 changes, and evaluate requests for exemptions to the regulation while maintaining appropriate margins of safety and security. NMSS/DSFM developed a scoping and implementation plan for risk-informing storage regulatory activities.
The NRC's graded approach to improve the dry cask storage regulatory process takes into consideration quantitative and qualitative risk insights, as well as, qualitative evaluations that rely on safety functions, defense-in-depth, and engineering judgement, while also maintaining safety and security and ensuring that the associated regulatory requirements are met.

Previous Fiscal Years

FY 2019
Page Last Reviewed/Updated Wednesday, January 29, 2020
Home
About Us
Popular Documents
Stay Connected