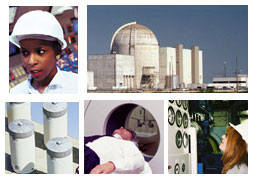 Fuel Cycle Sub-Arena
The Nation's fuel cycle facilities comprise one of two sub-arenas that the staff of the U.S. Nuclear Regulatory Commission (NRC) identified in considering which areas of the materials safety arena to target for greater use of risk information. This page summarizes the following aspects of this sub-arena:
Objective
For fuel cycle facilities, make continuous improvement in licensing and oversight, and risk inform new regulations as needed, while performing existing risk-informed functions.

Basis
SECY-99-100 and SECY-04-0182, as well as the related staff requirements memorandum (SRM), provide the conceptual framework for risk-informing the NRC's fuel cycle activities. Guidance on how to apply this framework is provided in "Risk-Informed Decision-Making for Material and Waste Applications, Rev. 1," which is available in the NRC's Agencywide Documents Access and Management System (ADAMS), under Accession No.ML080720238. In particular, individual risk-informed applications must meet the established screening criteria.
The screening criteria applied to the goals (below) of implementing the NRC's revised regulatory requirements, as specified in Title 10, Part 70, of the Code of Federal Regulations (10 CFR Part 70), would indicate that the given activity was undertaken to increase confidence in the margin of safety of fuel cycle facilities by requiring the use of a risk-informed approach to identify and manage items that are relied on for safety. Cost/benefit was not a consideration, and technical feasibility was known because two licensees had already implemented such systems. The revision of 10 CFR Part 70 is expected to reduce staff effort, while improving regulatory effectiveness, by providing more frequent updates of licensee design information and related risk information.

Goals
The staff has established the following goals for risk-informed and performance-based activities in this sub-arena:
Revise the existing licensing guidance to reflect lessons learned from implementation of 10 CFR 70 Subpart H.
Complete revision of inspection guidance to make use of the resulting risk information to focus inspections.
Revise the Fuel Cycle Oversight Program to make it more risk-informed and performance-based consistent with Commission direction.

List of Risk-Informed and Performance-Based Activities
This list shows the ongoing licensing initiatives, projects, and activities that the staff of the U.S. Nuclear Regulatory Commission (NRC) has targeted for greater use of risk information in the Fuel Cycle Facilities Sub-Arena within the Reactor Safety Arena:
This page includes links to files in non-HTML format. See Plugins, Viewers, and Other Tools for more information.
Rulemaking for Reprocessing Facilities
Summary Description
In SRM-SECY-13-0093, the Commission approved development of a reprocessing-specific rule in a new 10 CFR Part 7X. In the SRM the Commission also directed that the continued development of the regulatory framework for reprocessing be limited in scope, for the time being, to the resolution of, "Safety and Risk Assessment Methodologies and Considerations for a Reprocessing Facility."
FY 2015 Status
Process flow diagrams and facility descriptions were developed for a conceptual aqueous reprocessing facility, with associated event and fault trees for a hypothetical red-oil explosion. Preliminary best-estimate source term analyses were calculated and indicated a potential dose reduction of orders of magnitude, compared to the existing conservative approaches.
Risk Category
"Rulemaking Applications Using Risk Insights" - The purpose of this activity is to develop the foundation for the potential regulatory framework for reprocessing to enable a risk-informed licensing and oversight process by:
Evaluating methods for hazards and risk evaluations that can be implemented for aqueous and electrochemical reprocessing facilities;
Identifying performance requirements for a risk-informed regulatory framework;
Obtaining peer review and public comments on the safety and risk assessment methodologies.
Revise the Fuel Cycle Oversight Program (RFCOP)
Summary Description
As directed by the Commission, staff is developing and evaluating approaches to use risk information to determine the significance of inspection findings at fuel cycle facilities. For more information, see Revised Fuel Cycle Oversight Process (RFCOP).
FY 2015 Status
On June 8, 2015, the staff completed and issued the cornerstone development document for public comment. The cornerstones and associated key safety and security attributes will help ensure that the core inspection program is supporting the NRC's mission.
Risk Category
"Risk-Informed Oversight Activity" – The purpose of this activity is to develop approaches for using risk to improve oversight of fuel cycle facilities.
Page Last Reviewed/Updated Monday, August 08, 2016