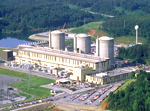 2011 Aircraft Impact Assessment (AIA) Inspection Reports
The purpose of inspection reports is to document the inspection scope, observation, and findings of inspections conducted by the NRC. The NRC performs inspections to oversee the commercial nuclear industry to determine whether its requirements are being met by applicants, licensees and their contractors. The NRC performs inspections to verify the quality and suitability of the aircraft impact assessment and review any issues identified during the analysis and the corrective actions associated with the issue.
This page includes links to files in non-HTML format. See Plugins, Viewers, and Other Tools for more information.
| Date | Description |
| --- | --- |
| 10/2011 | Westinghouse Electric Company (WEC),amendment application to the design certification rule for the AP1000 – Follow-up Inspection of the AIA to support the AP1000 DCR amendment application in accordance with the requirements of 10 CFR 50.150 at the WEC facilities in Cranberry Township, PA |
Page Last Reviewed/Updated Tuesday, April 18, 2017
Home
About Us
Popular Documents
Stay Connected