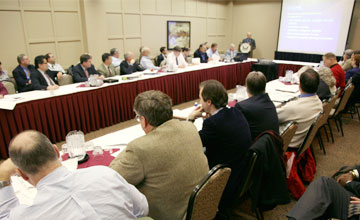 Important Security Notice for Fuel Cycle Information Exchange
On this page:
Building Access Requirements
The USNRC headquarters buildings have specific security access requirements and FCIX participants will be required to follow security procedures for building access. All attendees must register and wear their badge at all times during the FCIX. Pre-registration for the FCIX enables the names of attendees to be entered into the NRC Security database in advance to streamline the procedure for building access. Photo identification is required for all participants over 18 yrs of age during security check-in. All visitors to the NRC's White Flint North (WFN) complex in Rockville, Maryland are screened through metal detectors and their packages are x-rayed. Please arrive at least 45 minutes early to allow time for security registration. Once FCIX attendees are issued a visitor badge by the NRC guard force, they may move about freely without an escort in the public spaces. The public spaces include the Public Document Room and the NUREG Café in One White Flint North and the Exhibit Area, Cafeteria, Snack 'n Go, and the Credit Union in Two White Flint North. Restrooms are also considered public spaces. Security guards will also be located in the Auditorium area to provide unescorted access in the Atrium and Auditorium area.

Handicapped Visitor Access
Vehicles driven by handicapped attendees to the FCIX will be allowed to enter the NRC complex for parking. Handicapped visitors should contact the FCIX coordinator by June 1, 2009 to pre-register for approval to park inside the garage or in the outside visitor parking area behind the buildings. If parking inside the garage, an NRC escort will be required to enter your vehicle prior to driving into the garage. The NRC escort will accompany the visitor from the garage to a receptionist area on the lobby level for screening, registration, and badging. If parking in the outside visitor parking area, the guard will direct the visitor where to park their vehicle. After parking, the visitor shall proceed around the building to the lobby to go through screening, registration, and badging.

Escort Requirements
All FCIX attendees going to locations above the first floor lobby level must display an NRC visitor badge and must be escorted by an NRC employee--one employee may escort up to five visitors.

Restrictions
Recording Devices and Cameras

Portable electronic devices including cellular telephones, pagers, palm-size computing devices, two-way radios, and portable computers are allowed into NRC buildings and public meetings. However, devices that could interrupt or distract from public meetings (cellular phones, pagers and two-way radios) are not to be used during public meetings. In addition, visitors may use recording devices in public meetings held in NRC headquarters spaces on the lobby levels designated as a ``public access area.'' Cameras and video recording devices (e.g. camcorders) are permitted in public meetings on a case-by-case basis, with the approval of the Director, Office of Public Affairs or the Director, Division of Facilities and Security.

Any article that could cause property damage or personal injury is prohibited in NRC buildings. Prohibited articles include firearms, explosives, and incendiary devices. Members of the public going to NRC "controlled spaces'' inside the buildings above the lobby levels are allowed access with recording devices with the approval of the sponsoring office and under the escort of an NRC employee.

Signs and Banners

Signs, banners, posters, and displays not larger than 18''x18'' are permitted at NRC public meetings, but cannot be waved, held over one's head, or generally moved about in the meeting room because they are distracting to the participants and audience. Signs, banners, posters, and displays affixed to sticks, poles, etc., are not permitted in the meeting rooms.

Use of NRC Copiers, Telephones, and Fax Machines

Visitors may not use NRC copiers and fax machines without the approval and supervision of an NRC employee. Visitors may use building lobby level telephones to make brief in-house and local calls. FCIX attendees are also prohibited from bringing copying or imaging devices, including scanners, CD-ROM writers, photocopy machines, or other devices which permit the duplication of NRC documents because of the devices' intrusive and disruptive nature.

Page Last Reviewed/Updated Wednesday, November 06, 2013
Home
About Us
Popular Documents
Stay Connected