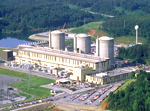 Submitting Fitness for Duty Reports
Submitting reports for the Fitness for Duty program is an integral part of managing an industry-wide commitment to ensuring employees are fit to perform duties at a nuclear power plants and associated facilities. A licensee or other entity can either submit a written report satisfying the requirements of 10 CFR 26.717 or provide electronics reports.
Fitness for Duty reporting consists of one of two methods:
Electronic Information Exchange (EIE) Using the General Submission Portal. This is the preferred and easiest method of reporting and consists of licensees completing one or more of the three types of forms using the General Submission portal. The completed forms will be in a .pdf format, which an entity can submit electronically to the NRC. In order to satisfy the annual reporting requirement, a Single Positive Test Form must be submitted for each occurrence and the Annual Reporting Form and Fatigue Reporting Form must also be submitted.
Use the below listed FFD Forms when making an electronic submittal through the EIE General Submission portal. The current FFD drug and alcohol reporting e-forms are version 1.6.0 (December 19, 2014) and the fatigue form is version 1.4.0 (November 5, 2012).
The benefits of using this method are:

Easier to use.
Better data verification.
More manageable.
Revisable.
Improved version control.
Enhanced data evaluation by both licensees and the NRC.
Hard Copy. Although this is the least desirable method, licensees and other entities may still submit hard copy FFD performance reports. This is the least desirable method because: (1) the FFD hard copy reports are in site-specific formats, nomenclature, and level-of-detail making it difficult for the NRC staff to understand and evaluate site-specific corrective actions and testing results and (2) data contained within the hard copied reports needs manual data extraction methods to facilitate industry-wide trending.
Information Regarding FFD Performance Reports
Page Last Reviewed/Updated Friday, April 15, 2016