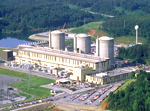 Related Documents and Other Resources
This page provides links to a variety of program documents, staff papers, the working draft of the Fitness-for-Duty rule, and other information you may find useful. Please see the following list below to access the documents and resources which are of interest to you.
Links to NRC Resources
Historical Documents and Information
Meeting Summaries
Summary of the Public Meeting With the Nuclear Energy Institute (NEI) Regarding Access Authorization and Fitness for Duty Programs, July 2011
June 29, 2011 NRC Public Meeting/Webcast Summary to Discuss Electronic Reporting of 10 CFR Part 26, Fitness for Duty Performance Data
November 7, 2011, NRC Public Meeting Summary With the Nuclear Energy Institute to Discuss Industry-Proposed Revision 6 to Nuclear Energy Institute Guidance Document 06-06, Fitness for Duty Program Guidance for New Nuclear Power Plant Construction Sites.
Links to Other Federal Agency Resources

Page Last Reviewed/Updated Friday, April 15, 2016