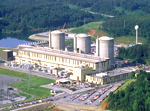 10 CFR 50 Appendix B Notices of Nonconformance (NON) and Violation (NOV) - XVII. Quality Assurance Records
The following table lists, in chronological order, the Quality Assurance (QA) Inspection for New Reactor Licensing reports and Vendor QA Inspection reports with a Criterion XVII NON/NOV.
This page includes links to files in non-HTML format. See Plugins, Viewers, and Other Tools for more information.
| Date | Title |
| --- | --- |
| 11/18/14 | Oregon Iron Works, Inc., Clackamas, OR and Vancouver, WA, limited scope inspection to assess compliance with selected portions of their quality assurance (QA) and 10 CFR Part 21 programs, as they pertain to the implementation of safety-related activities for U.S. regulated facilities. |
| 08/26/14 | Valinox Nucleaire Company, Montbard, France, multinational inspection to review implementation of their quality assurance program in accordance with the Multinational Design Evaluation Program (MDEP) Protocol Document. The team will be focused on the review of aspects of their QA program as it pertains to safety-related activities associated with the fabrication of steam generator tubes. |
| 10/02/13 | Ametek Solidstate Controls, Inc., Columbus, Ohio, limited scope inspection to assess Ametek Solidstate Controls, Inc.'s compliance with selected portions of their quality assurance (QA) and 10 CFR Part 21 programs as they pertain to activities conducted at their facility related to the design, fabrication, assembly, and testing of components for NRC regulated facilities. |
| 11/02/12 | Enertech, Utah State University, Brea, CA, routine limited-scope inspection to assess Enertech's compliance with selected portions of their quality assurance (QA) and 10 CFR Part 21 programs. |
| 10/25/12 | Flowserve Corporation, Limitorque Valve Actuator Manufacturing facility in Lynchburg, VA, routine limited-scope inspection to assess Flowserve Corporation's compliance with selected portions of their quality assurance (QA) and 10 CFR Part 21 programs. |
| 09/14/12 | UniStar Nuclear Energy, LLC (UNE), Baltimore, MD, limited scope inspection was to assess UNE's compliance with selected portions of their quality assurance (QA) and 10 CFR Part 21 programs. |
| 11/03/11 | Obayashi Corporation, Tokyo, Japan, inspection of selected portions of Obayashi Corporation's quality assurance (QA) program and 10 CFR Part 21 program |
| 09/22/09 | Tioga Pipe Supply Company Inc., Easton, PA, follow-up inspection of selected portions of Tioga's quality assurance (QA) program and 10 CFR Part 21 program |
| 06/02/08 | PCI Energy Services, LLC, Lake Bluff, IL, inspection of selected portions of PCI's quality assurance (QA) program, and 10 CFR Part 21 program |
| 05/08/08 | Tioga Pipe Supply Company, Inc., Philadelphia, PA, inspection of selected portions of Tioga's quality assurance (QA) program, and 10 CFR Part 21 program |
| 10/09/07 | Babcock & Wilcox Canada, Cambridge Ontario, Canada, inspection of selected portions of Babcock & Wilcox Canada's quality assurance (QA) program, and 10 CFR Part 21 program |
| 04/13/06 | Invensys/Triconex, Irvine, CA, quality assurance inspection |
Page Last Reviewed/Updated Tuesday, April 18, 2017
Home
About Us
Popular Documents
Stay Connected