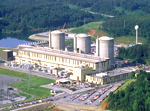 Regulatory Oversight for New Reactors
Unlike the Operating Reactor Oversight program, which focuses on monitoring and evaluating the performance of existing nuclear power plants, regulatory oversight for new reactors focuses on the construction of reactor facilities (that is, the period between licensing and initial operation). With that focus, the U.S. Nuclear Regulatory Commission (NRC) performs the following oversight activities:
Implement the Construction Reactor Oversight Process as described in IMC 2506, "Construction Reactor Oversight Process General Guidance and Basis Document."


Conduct Construction Inspections to ensure that the as-built facility conforms to the conditions of the combined license (COL), and verify that the appropriate corrective actions have been implemented.


Ensure the proper inspections, tests, and analyses are performed to determine whether the appropriate acceptance criteria are met (ITAAC), to verify whether the plant was built in accordance with its intended design.


Review the Quality Assurance (QA) programs implemented by vendors, fabricators, applicants, and construction licensees, and conduct regular Vendor QA Inspections.


Review licensee submittals and develop programs and guidelines for technical specifications, and provide interpretations of technical specification requirements for new reactors.


Review applicant radiation protection programs and develop and oversee the Radiation Protection inspection program for new reactors.


Implement the national program associated with Operator Licensing (training and qualification) to ensure that licensees are ready to operate their new reactors once they are built.


Conduct Aircraft Impact Assessment (AIA) Inspections to verify that applicants for new nuclear power reactors have conducted an assessment in accordance with the requirements of 10 CFR 50.150, "Aircraft Impact Assessment".
Page Last Reviewed/Updated Wednesday, September 13, 2017
Home
About Us
Popular Documents
Stay Connected