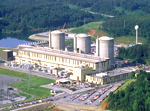 Victoria County Station, Early Site Permit Application
On August 28, 2012, Exelon requested that the Victoria County Station early site permit application be withdrawn from the docket. By letter dated October 3, 2012, NRC has accepted the applicant's request and the application has been withdrawn.
Exelon Nuclear Texas Holdings, LLC (Exelon) submitted an application for an early site permit (ESP) for Victoria County Station on March 25, 2010. This application uses the Plant Parameter Envelope (PPE) approach which means no reactor design has been selected.
For additional detail, see the following related pages:
Contacts for the Victoria County Station ESP Application
Safety Project Manager
Michael Eudy
Environmental Project Manager
Tomeka Terry
Contact a Public Affairs Officer

Page Last Reviewed/Updated Friday, April 14, 2017
Home
About Us
Popular Documents
Stay Connected