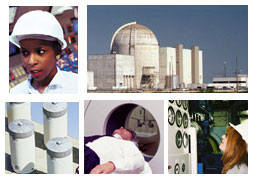 International Organizations
The NRC participates in several international nuclear organizations:
The International Nuclear Regulators Association (INRA) was established in January 1997 and is an association that comprises the most senior officials of the nuclear regulatory authorities of the following countries: Canada, France, Germany, Japan, South Korea, Spain, Sweden, the United Kingdom, and the United States of America. The main purpose of the association is to influence and enhance nuclear safety, from the regulatory prospective, among its members and worldwide.
The International Atomic Energy Agency (IAEA) is the foremost international organization in the nuclear field headquartered in Vienna, Austria. The Agency was founded in 1957 as the "Atoms for Peace" organization in the United Nations. It now serves as an independent intergovernmental agency controlled by two main policymaking bodies – the 35-member Board of Governors and the General Conference of all Member States. Reports on IAEA activities are submitted to the UN Security Council and UN General Assembly. Three main areas of work underpin the IAEA's mission: Safety and Security, Science and Technology, and Safeguards and Verification. NRC staff work closely with the IAEA to develop new technology and policies that promote safe, secure, and peaceful uses of nuclear technology.
The Nuclear Energy Agency (NEA) is part of the Organization for Economic Corporation and Development (OECD) and currently has 31 member states, among which are many of the leading nuclear power countries of the world. NRC participates in the NEA through various committees, working groups, and meetings. NEA's support of detailed engineering and technological studies complements and expands NRC's research program in a cost-effective way.
Page Last Reviewed/Updated Friday, February 17, 2017