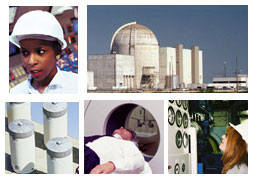 Bilateral Relations
The NRC is engaged in a wide range of bilateral programs that enhance the safety and security of peaceful nuclear activities worldwide. The NRC works closely with nuclear agencies in 45 countries (see table), as well as the European Atomic Energy Community (Euratom) and the Taipei Economic and Cultural Representative Office in the United States (Taiwan). Bilateral cooperation and assistance activities include technical exchanges, regulatory information sharing, temporary personnel exchanges, and assistance partnerships for regulatory program development. These international activities support the NRC's domestic mission, as well as broader U.S. domestic and international interests.
The NRC enters into Arrangements for the Exchange of Technical Information and Cooperation in Nuclear Safety Matters with both nuclear power and non-nuclear power countries. Currently, the NRC maintains Arrangements with:
| | | |
| --- | --- | --- |
| Argentina | Ghana | Romania |
| Armenia | Greece | Singapore |
| Australia | Hungary | Slovak Republic |
| Belgium | India | Slovenia |
| Brazil | Indonesia | South Africa |
| Bulgaria | Israel | Spain |
| Canada | Italy | Sweden |
| China | Japan | Switzerland |
| Colombia | Lithuania | Thailand |
| Croatia | Mexico | Turkey |
| Czech Republic | Morocco | Ukraine |
| Ethiopia | Netherlands | United Arab Emirates |
| Finland | Nigeria | United Kingdom |
| France | Peru | Vietnam |
| Georgia | Poland | |
| Germany | Republic of Korea | |
Note: List last updated February 2020
These Arrangements establish the framework for NRC's communications with foreign regulatory authorities regarding pertinent information with direct applicability to ensuring the safety and security of civilian uses of nuclear and radioactive materials globally. Activities under these Arrangements include, but are not limited to: information exchanges on regulatory approaches and best practices; notification of potential safety concerns; accident and incident analyses at operating reactors; and cooperative research and code sharing programs. These Arrangements also enable the NRC to provide health and safety assistance to countries as they work to develop their respective regulatory capabilities and nuclear safety infrastructure for oversight of a new nuclear power or radioactive materials program.
Thus, the Arrangements facilitate NRC's strategic goal to support U.S. interests in the safe and secure use of nuclear materials and in nuclear nonproliferation both at home and abroad.

Page Last Reviewed/Updated Monday, February 24, 2020
Home
About Us
Popular Documents
Stay Connected