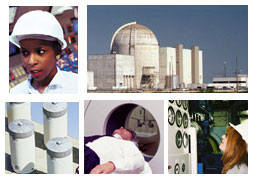 Bilateral Relations
NRC has close working relations with nuclear agencies in more than 35 countries. NRC and its foreign counterparts exchange operational safety data and other regulatory information. Subject to outside funding, NRC provides safety and safeguards advice, training, and other assistance to countries that seek U.S. help to improve their regulatory programs.
NRC originally worked primarily with major nuclear power countries but later expanded its cooperation to include countries with small nuclear power programs, as well as some of those about to enter the nuclear field.
NRC's information exchange arrangements serve as communications channels with foreign regulatory authorities, establishing the framework for NRC to gain access to non-U.S. safety information that can (1) alert us to potential safety problems, (2) help us identify possible accident precursors, and (3) provide accident and incident analyses, including lessons learned, that could be directly applicable to the safety of U.S. nuclear power plants and other facilities. They also serve as vehicles for the health and safety assistance NRC supplies to less-developed countries in their attempts to prevent accidents and to develop and improve their regulatory capabilities and their nuclear safety infrastructure. Thus, the arrangements facilitate NRC's strategic goal to support U.S. interests in the safe and secure use of nuclear materials and in nuclear nonproliferation both at home and abroad.
Page Last Reviewed/Updated Thursday, October 09, 2014