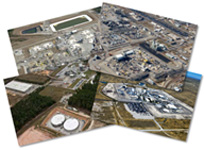 Spent Fuel Storage and Transportation – Public Involvement
The U.S. Nuclear Regulatory Commission (NRC) has a long-standing practice of conducting our regulatory, licensing, and oversight activities in an open manner. For that reason, we are committed to informing the public and providing opportunities to participate in our decisionmaking process regarding regulation of spent nuclear fuel storage and transportation, extended storage of spent fuel, and transportation of spent fuel after extended storage periods. Toward that end, we periodically hold meetings, conferences, and workshops to inform the public or solicit input. We also occasionally publish documents for public comment. The staff may use information obtained from the public to inform our regulations, guidance, licensing, and inspection processes; environmental reviews; or other activities. For details, see the following topics on this page:
For general information about available opportunities for public involvement in NRC activities, see Public Meetings and Involvement, Hearing Opportunities and License Applications, and NUREG/BR-0215, "Public Involvement in the Regulatory Process."
This page includes links to files in non-HTML format. See Plugins, Viewers, and Other Tools for more information.
Upcoming Opportunities for Public Involvement
| Meeting Date | Description |
| --- | --- |
| 09/06/2018 | Meeting on Proposed NUREG-2224, "Dry Storage and Transportation of High Burnup Spent Nuclear Fuel" |
Public Meeting Archive
Meeting Date
Description
12/07/2017

Meeting on Proposed NUREG-2214, "Managing Aging Processes in Storage (MAPS) Report"

07/07-09/21/2015

Request for Comment on Draft NUREG-1927, Revision 1, "Standard Review Plan for Renewal of Specific Licenses and Certificates of Compliance for Dry Storage of Spent Nuclear Fuel"

On July 7, 2015, the NRC published a request for public comment in the Federal Register on Draft NUREG-1927, Revision 1, "Standard Review Plan for Renewal of Specific Licenses and Certificates of Compliance for Dry Storage of Spent Nuclear Fuel." NUREG-1927 provides guidance to the NRC staff for the safety review of renewal applications for specific licenses of independent spent fuel storage installations (ISFSIs) and certificates of compliance (CoCs) of spent fuel storage casks. The NRC staff proposed changes and clarifications throughout Draft NUREG-1927, Revision 1 to address NRC staff's recent review experience and valuable input received from stakeholders in public meetings. The NRC staff is soliciting public comments on Draft NUREG-1927, Revision 1 and will consider received comments as it finalizes the guidance.

Interested stakeholders are invited to submit comments online through the Federal Rulemaking Website under Docket ID NRC-2015-0106. Comments may also be mailed to Cindy Bladey, Office of Administration, Mail Stop: OWFN-12-H08, U.S. Nuclear Regulatory Commission, Washington, DC 20555-0001.

The comment period will close on August 21, 2015.

07/29/2015

Meeting on Proposed Changes in Draft NUREG-1927, Revision 1, "Standard Review Plan for Renewal of Specific Licenses and Certificates of Compliance for Dry Storage of Spent Nuclear Fuel"

07/14-15/2014

Meeting to Obtain Stakeholder Input on Potential Changes to Guidance for Renewal of Spent Fuel Dry Cask Storage System Licenses and Certificates of Compliance

01/17-03/18/2013

Request for Comments on Retrievability, Cladding Integrity, and Safe Handling of Spent Fuel at an Independent Spent Fuel Storage Installation and During Transportation

The NRC staff is reviewing the regulatory framework for spent fuel storage and transportation to identify efficiency and effectiveness enhancements. The staff is engaged in this activity as part of the project plan for program enhancements as described in COMSECY-10-0007. This review includes an evaluation of the compatibility between storage and transportation regulatory frameworks, and whether integration of the regulatory frameworks would enable a more predictable transition from storage to transportation. As part of this evaluation, the NRC staff is reviewing its policies, regulations, guidance, and technical needs in several areas – including retrievability, cladding integrity, and safe handling of spent fuel, with a focus on challenges with high-burnup fuel cladding.

On January 17, 2013, the NRC published a request for stakeholder comments in the Federal Register on the document titled, "Request for Comment on Retrievability, Cladding Integrity, and Safe Handling of Spent Fuel at an Independent Spent Fuel Storage Installation and During Transportation". The stakeholder comments will assist the NRC staff in evaluating the appropriate definition of retrievability for storage, whether storage cladding integrity regulations should be maintained or revised, and whether retrievability, and what definition of retrievability, should be extended to transportation of spent fuel. Interested stakeholders are invited to submit comments online through the Federal Rulemaking website, http://www.regulations.gov, under Docket ID NRC-2013-0004. Comments may also be faxed to 301-492-3446 or mailed to Cindy Bladey, Chief, Rules, Announcements, and Directives Branch, Office of Administration, Mail Stop: TWB-05-B01M, U.S. Nuclear Regulatory Commission, Washington, DC 20555-0001. The comment period will close on March 18, 2013.

09/12-13/2012
2012 Spent Fuel Storage and Transportation Regulatory Conference
08/16-17/2012

Meeting to Obtain Stakeholder Feedback on Enhancements to the Licensing and Inspection Programs for Spent Fuel Storage and Transportation

05/2012

Draft Report for Comment: "Identification and Prioritization of the Technical Information Needs Affecting Potential Regulation of Extended Storage and Transportation of Spent Nuclear Fuel."

The U.S. Nuclear Regulatory Commission (NRC) regulates storage of spent nuclear fuel (SNF) from commercial nuclear power plants. An increasing amount of the SNF in storage is in dry storage systems, mostly at current and decommissioned plants. As directed by the Commission, in expectation of continued use of dry storage for extended periods of time, the NRC staff is examining the technical needs and potential changes to the regulatory framework that may be needed to continue licensing of SNF storage over periods beyond 120 years. This report presents the results of NRC staff evaluation of the technical information needs for continued extended dry storage, and for the subsequent transportation of SNF following long-term storage. Staff's evaluation focuses on the degradation phenomena that may affect dry storage systems, and how these phenomena may affect the ability of the systems to fulfill their regulatory functions.

The comment period was scheduled to be 45 calendar days, starting May 4, 2012 and ending June 18, 2012. The comment period has been extended by two weeks and will now close on July 2, 2012. Please submit comments to ESTOutreach@nrc.gov. You do not need to submit comments through the NRC's electronic submittals process if you send them to this email address. Alternatively, you may send comments through the U.S mail to:

Christian Jacobs, Project Manager
Mailstop EBB-2B2
Office of Nuclear Material Safety and Safeguards
U.S. Nuclear Regulatory Commission
Washington, DC 20555-0001

01/31/2012

Webinar on draft report "Background and Preliminary Assumptions for an Environmental Impact Statement—Long-Term Waste Confidence Update."

Presentation Materials
Webinar Transcript (Including responses to unanswered written questions):

12/2011-03/2012

The Commission has directed agency staff to consider a long-term extension to the Waste Confidence Decision and Rule to account for the storage of commercial spent nuclear fuel and high-level waste for more than 60 years after the licensed life for operation of any commercial nuclear power reactor. As part of this review, the Commission directed the staff to develop an Environmental Impact Statement (EIS). The staff has developed a draft report, entitled Background and Preliminary Assumptions for an Environmental Impact Statement—Long-Term Waste Confidence Update, as a means to seek public feedback on the agency's preliminary plans to develop the EIS. The NRC seeks to ensure the preliminary EIS scope described in this report considers the significant factors related to the longer-term storage of spent nuclear fuel and high-level waste.

The original deadline for comments on this report was February 17, 2012. However, on February 16, 2012, the NRC received a letter from eight public interest organizations requesting a 60-day extension of the comment period for the draft report. The NRC granted an additional 31 days, extending the deadline to Monday, March 19, 2012. Comments received after March 19 that cannot be considered for the final version of this report will be considered in the coming months as the staff continues to develop the scope of the EIS for the long-term Waste Confidence update.

This report is only the first of several opportunities to provide input on the update. In 2013, the staff expects to begin the formal process under the National Environmental Policy Act to develop the EIS and will announce another specific opportunity to provide input on the EIS scope. In the meantime, however, any input may continue to be submitted to WCOutreach@nrc.gov or through U.S. mail addressed as follows:

Christine Pineda, Project Manager
Mailstop EBB-2B2
Office of Nuclear Material Safety and Safeguards
U.S. Nuclear Regulatory Commission
Washington, D.C. 20555-0001

12/13-14/2011

Webinars on Extended Storage and Waste Confidence Decision and Rule

Presentation Materials
Webinar Transcripts:

11/01-03/2011

2011 Spent Fuel Storage and Transportation Technical Exchange and Regulatory Conference

10/06/2011

2011 Extended Storage and Transportation (EST) and the Waste Confidence (WC) decision and Rule Informational Public Meeting, California – October 6, 2011

Presentation Materials
Video Archive

10/04/2011

2011 Extended Storage and Transportation (EST) and the Waste Confidence (WC) decision and Rule Informational Public Meeting, Illinois – October 4, 2011

09/28/2011

2011 Extended Storage and Transportation (EST) and the Waste Confidence (WC) decision and Rule Informational Public Meeting – September 28, 2011

07/27/2011

2011 Spent Fuel Storage and Transportation - Public Meeting on Enhancements to Licensing and Inspection Programs – July 27, 2011

06/23-24/2010

2010 Spent Fuel Storage and Transportation Licensing Process Conference

02/08/2005

Spent Fuel Project Office Licensing Process Conference

Page Last Reviewed/Updated Wednesday, September 05, 2018
Home
About Us
Popular Documents
Stay Connected