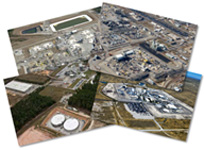 Spent Fuel Storage Oversight
The NRC's safety oversight program for spent fuel storage is designed to prevent radiation-related deaths and illnesses, protect the environment, and safeguard the material from terrorist threats. The oversight program includes inspections and assessments of licensee and vendor activities with a focus on minimizing risk to public health and safety.
How NRC Conducts its Oversight Program
The NRC periodically inspects the design, fabrication, and use of dry cask storage systems by sending inspectors to licensee and cask vendor facilities. The inspectors examine whether licensees and vendors are performing activities in accordance with radiation safety requirements, licensing and certificate of compliance requirements, and quality assurance program commitments. Inspectors follow guidance in the NRC Inspection Manual which contains objectives and procedures to use for each type of inspection.
Results
The NRC issues reports to document inspection findings. These inspection reports may contain enforcement actions and follow-up inspection items. NRC makes the Inspection Reports available for public review through its electronic document retrieval system (ADAMS). You can locate spent fuel storage inspection reports by searching for documents with a cask designer's name or docket number, or an Independent Spent Fuel Storage Installation's site name or docket number.
Enforcement
As part of our oversight process, NRC issues sanctions called enforcement actions to licensees who violate our regulations. These sanctions, may include notices of violation, monetary fines, or orders to modify, suspend, or revoke a license or require specific actions because of a public health issue. See our Enforcement page for more information.
Page Last Reviewed/Updated Wednesday, August 09, 2017
Home
About Us
Popular Documents
Stay Connected