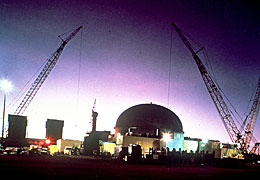 Decommissioning Guidance
On this page:
Regulatory Guides
Regulatory guides are issued in 10 divisions and are intended to aid licensees in implementing regulations. NRC's Consolidated NMSS Decommissioning Guidance (NUREG-1757) is the primary guidance for decommissioning. Other guides most applicable to decommissioning are in the following:
Web (HTML) versions of some regulatory guides are available for viewing or downloading. Those available are highlighted in the index to our Regulatory Guides Document Collection. A guide available at this site has an underscored number. All active final and draft guides are also available in NRC's Agencywide Documents Access and Management System (ADAMS).

Primary Decommissioning Guidance Documents
The primary decommissioning guidance documents are the Consolidated Decommissioning Guidance (NUREG-1757) and the Standard Review Plan for Evaluating Nuclear Power Reactor License Termination Plans (NUREG-1700, Rev. 1). These NUREGs describe and make available to the public: (1) methods acceptable to the NRC staff in implementing specific parts of the Commission's regulations; (2) techniques and criteria used by the staff in evaluating decommissioning actions; and (3) guidance to licensees responsible for decommissioning NRC-licensed sites. Additional NUREGs related to decommision are:

Reactors

Materials
Some guidance documents are also available in ADAMS (see our table listing their availability).
General Guidance - In its September 23, 2005, General Guidance for Inspections and Enforcement to Prevent Future Legacy Sites and Indicators of Higher Risk Subsurface Contamination, staff report the results of a study conducted in FY -05. This guidance will support future staff activities, including a future rulemaking activity and revisions to staff inspection and enforcement procedures for currently operating facilities to address factors that could contribute to the creation of future legacy decommissioning sites. This work was described in the License Termination Rule (LTR) Analysis (SECY-03-0069 and SECY-04-0035).
Page Last Reviewed/Updated Monday, August 07, 2017
Home
About Us
Popular Documents
Stay Connected