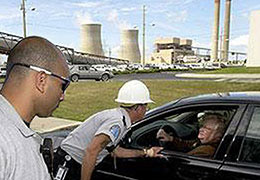 Export and Import of Radioactive Byproduct Material
Export-Import. The NRC Office of International Programs' page describing the NRC's licensing authority for export and import licenses, along with the types of licenses issued, associated fees, and related information.
The NRC is responsible for licensing and regulating the export and import of nuclear equipment and material as set forth in Part 110 of Title 10 of the Code of Federal Regulations. The following pages describe recent developments in the agency's efforts to ensure the safe import and export of radioactive byproduct material.
Changes to the Export and Import Rule. Changes to the regulations in Part 110 have enabled the NRC to enhance control, accountability, and security of sources of greatest concern.
Page Last Reviewed/Updated Monday, July 09, 2018
Home
About Us
Popular Documents
Stay Connected