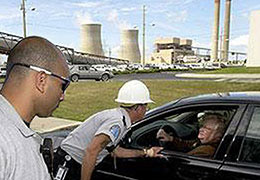 Amendments to the Export and Import Regulations for Nuclear Equipment and Byproduct Material
On this page

Changes Affecting the Export and Import of Radioactive Material
Effective December 28, 2005, the NRC amended its regulations pertaining to the export and import of radioactive materials.
The final rule takes into account provisions in the International Atomic Energy Agency's (IAEA's) Code of Conduct on the Safety and Security of Radioactive Materials concerning the import and export of radioactive sources, and the supplemental IAEA Guidance in the Import and Export of Radioactive Sources. Specifically, the amendments
provide for enhanced tracking of certain exports and imports of radioactive sealed sources and bulk material for certain radionuclides;
include new specific export and import license requirements, advanced notification procedures prior to shipment, and requirements for

verification of the recipient facility's licensing status, and
review of the adequacy of the receiving country's controls on radioactive sources.

provide the Commission with flexibility to

treat each export and import license application on a case-by-case basis and
accommodate the still evolving domestic and international security measures for radioactive material.
Changes Affecting the Export and Import of Nuclear Equipment and Material
Effective August 7, 2006, the NRC amended its regulations that govern the export and import of nuclear equipment and material to implement the provisions of the Energy Policy Act of 2005. Specifically, this amendment
facilitates exports to specified countries of high-enriched uranium for medical isotope production in reactors that are either using low-enriched uranium (LEU) fuel, or have agreed to convert to the use of LEU fuel;
revises the definition of byproduct material to include discrete sources of radium-226, accelerator-produced radioactive material, and discrete sources of naturally occurring radioactive material; and
requires specific licenses for the export exports and imports of radium-226 that meet the threshold values of the IAEA's Code of Conduct on the Safety and Security of Radioactive Sources.

Page Last Reviewed/Updated Wednesday, October 17, 2018
Home
About Us
Popular Documents
Stay Connected