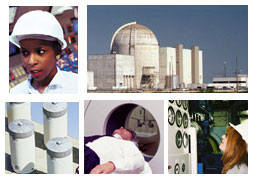 Enforcement Manual Appendix A - Temporary Enforcement Guidance
Appendix A contains temporary enforcement guidance, including temporary Enforcement Guidance Memoranda (EGMs). The NRC Enforcement Manual Change Notice Index, in the front of the Manual, contains a complete chronological listing of Change Notices, including the issuance of temporary enforcement guidance.
This page includes links to files in non-HTML format. See Plugins, Viewers, and Other Tools for more information.
EGM 20-003, "Interim Guidance for Dispositioning Violations of Licensed Material Possession and Use Limits"
07/15/2020

EGM 20-002, "Dispositioning Violations of NRC Requirements During COVID-19 Pandemic"

Attachment 1 – "Dispositioning Violations of NRC Requirements for Completion Periodicities Associated with Security Training and Requalification Requirements During the COVID-19 Public Health Emergency," dated 04/15/2020

Attachment 2 – "Dispositioning Violations of NRC Requirements Under 10 CFR Parts 30-36 and 39, Resulting from Impacts of the COVID-19 Public Health Emergency (PHE), Where the Licensee Suspended the Use of Licensed Material and Placed Material in Safe Storage," dated 05/19/2020

Attachment 3 – "Dispositioning Violations of NRC Requirements for Compliance with Radiological Emergency Response Plans During the COVID-19 Public Health Emergency," dated 05/27/2020

04/15/2020
EGM 20-001, "Enforcement Discretion Not to Cite Certain Violations of 10 CFR 73.56 Requirements"
02/13/2020
EGM 19-001, "Clarification of Inspection Documentation Requirements in Section 2.2.3 of the Enforcement Policy"
12/04/2019
EGM-18-002, "Interim Guidance for Dispositioning Violations for Failure to Control and Maintain Constant Surveillance for Portable Gauges"
08/01/2018
EGM 18-001, "Interim Guidance For Dispositioning Apparent Violations of 10 CFR Parts 34, 36, and 39 Requirements Resulting from the Use of Direct Ion Storage Dosimetry During Licensed Activities"
05/11/2018
EGM 15-003, "Enforcement Discretion Not to Cite Certain Violations of Section V of Appendix E to 10 CFR Part 50 for Non-Submittal of Emergency Plan and Emergency Plan Implementing Procedure Changes by Operating Reactor Licensees, While Rulemaking Changes are Being Developed" dated October 23, 2015
10/23/2015
EGM 15-002 (rev 1), "Enforcement Discretion for Tornado-Generated Missile Protection Noncompliance"
02/07/2017
EGM 15-001 (rev 1), "Documentation of Security-Related Information in Publicly Available Cover Letters Related to Enforcement Documents"
06/02/2015
EGM-14-003, "Enforcement Discretion Not To Cite Violations Involving Bolt And Stud Non-Destructive Examination Qualification Programs, While Rulemaking Changes Are Being Developed"
01/16/2015
EGM-14-002, "Dispositioning Westinghouse Pressurized Water Reactor Licensee Noncompliance with 10 CFR 50.59, "Changes, Tests, and Experiments," for the Installation of Complex Programmable Logic Device (CPLD) Based Solid State Protection System (SSPS) Cards"
10/02/2014
EGM-14-001, "Interim Guidance for Dispositioning 10 CFR Part 37 Inspection Findings with Respect to Large Components and Robust Structures at Facilities Licensed Under 10 CFR Parts 50 and 52"
03/13/2014
EGM 13-003, "Interim Guidance for Dispositioning Violations Involving 10 CFR 35.60 and 10 CFR 35.63 for the Calibration of Instrumentation to Measure the Activity of Rubidium-82 and the Determination of Rubidium-82 Patient Dosages"
04/18/2013
EGM 13-002, "Enforcement Discretion Not To Cite Violations Involving the Use of the New American Society Of Mechanical Engineers (ASME) Certification Marks Instead of ASME Code Symbol Stamps, while Rulemaking Changes are Being Developed"
04/03/2013
EGM 11-004, "Interim Guidance for Dispositioning Violations of Security Requirements for Portable Gauges"
04/28/2011
EGM 11-003 (rev 3), "Dispositioning Boiling Water Reactor Licensee Non-Compliance with Technical Specification Containment Requirements During Operations with a Potential for Draining the Reactor Vessel"
01/15/2016
EGM 09-004, "Dispositioning Violations of Naturally Occurring and Accelerator-Produced Radioactive Materials (NARM) Requirements"
05/13/2009
EGM 09-002, "Enforcement Discretion for Fire Induced Circuit Faults"
05/14/2009
EGM 07-004, "Enforcement Discretion For Post-Fire Manual Actions Used as Compensatory Measures for Fire Induced Circuit Failures"
06/30/2007
Page Last Reviewed/Updated Tuesday, July 21, 2020
Home
About Us
Popular Documents
Stay Connected