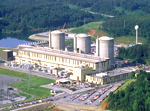 Function of the Containment Sump
The containment sump (also known as emergency or recirculation sump) is part of the ECCS. Every nuclear power plant is required by regulations (i.e., 10 CFR 50.46) to have an ECCS to mitigate a design basis accident. The emergency core cooling system is one of several safety systems required by the NRC.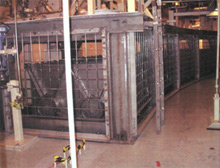 The containment sumps collect reactor coolant and chemically reactive spray solutions following a loss-of-coolant accident. The containment sump serves as the water source to support long-term recirculation for the functions of residual heat removal, emergency core cooling, and containment atmosphere cleanup. This water source, the related pump inlets, and the piping between the source and inlets are important safety components.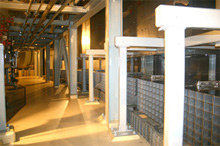 Typically, the containment sump is surrounded by a debris strainer to prevent debris from entering the ECCS suction lines. Debris can block restrictions (i.e., openings) or damage components in the systems served by the ECCS pumps.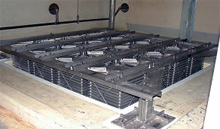 Containment sump designs in nuclear power plants may vary from the photos and figure shown on this page. With regard to this issue, the sump is defined as the space enclosed by the trash rack (see figure), and the space enclosed by sump screen is referred to as the sump pit or sump region. Actual sump designs vary from the pictures and figure on this page, but all share similar geometric features.
Illustration of Containment Sump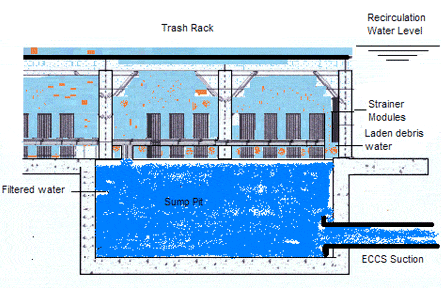 Page Last Reviewed/Updated Friday, May 12, 2017
Home
About Us
Popular Documents
Stay Connected