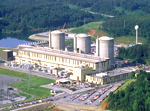 Plant Sites with Licensed Radioactive Material in Groundwater
The U.S. Nuclear Regulatory Commission (NRC) regulations require nuclear power plants to check for the presence of radioactive materials on site property and in the environment. Licensees routinely check their site and the environment for the presence of radioactive materials. The instruments used to perform these checks can detect extremely small concentrations of radioactive materials. As a result of one or more of the causes listed below, radioactive materials (most notably tritium) have been identified in ground moisture or ground water at several commercial nuclear power plants:
system leaks (e.g., pipes, valves, tanks)
evaporation of liquids
condensation of vapors
as the result of routine, approved releases
The NRC has prepared the following list of reactor sites where tritium has been detected in ground moisture or groundwater on facility property:
This list was developed based on reports and information submitted to the NRC over approximately the past 35 years. Because the concentration of tritium typically diminishes rapidly once the leak or spill has stopped, the NRC staff is periodically updating this list so that it reflects the current status of each of these reactor sites. This list contains a revision number to track ongoing updates to this list.
In all the cases of groundwater contamination evaluated to date, none have exceeded any of the NRC's dose limits or any of the licensee's Technical Specification Limits. Although no limits have been exceeded, some of the events have exceeded the reporting thresholds which require licensees to notify local, state, and/or federal authorities through an approved reporting system.
NRC's regulations require proper accounting of all discharges of radioactive materials from commercial nuclear power plants. Licensees report radioactive discharges and the results of all groundwater monitoring efforts in annual reports to the NRC. To obtain more information on radioactive materials found in ground moisture and ground water at all US nuclear power plants, see the annual reports from each nuclear power plant.
To find the ground water monitoring results, see the Radioactive Effluent and Environmental Reports page and then select the desired nuclear power plant. Review the "Groundwater Questionnaires" for historical information prior to 2007, or search the "Effluent Reports" and the "Environmental Reports" for more recent information. To expedite locating the groundwater monitoring information in the "Effluent Reports" and the "Environmental Reports", search these documents for key words such as "groundwater" or "tritium".
Page Last Reviewed/Updated Wednesday, October 23, 2019
Home
About Us
Popular Documents
Stay Connected