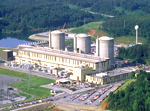 Modernizing the Regulatory Infrastructure for Digital I&C
Operating reactors in the U.S. want to more efficiently integrate and implement digital upgrades into plant systems to address obsolescence issues with analog components and improve overall plant reliability. In addition, new reactor designs continue to employ highly integrated digital I&C designs for safe and efficient operation of future plants. The NRC is engaged in a high priority initiative to modernize and improve the regulatory infrastructure for digital I&C to address these industry trends. The NRC Integrated Action Plan (IAP) for digital I&C defines key improvement activities and the actions for completing modernization efforts. The improvements are expected to increase the timeliness, efficiency, and effectiveness of digital I&C licensing actions and improve regulatory predictability of modifications made under the 10 CFR 50.59 process. This will result in further risk-informed and performance-based review and oversight approaches for both new and operating reactors.
The development of the IAP was directed by the Commission in Staff Requirements Memorandum (SRM) to SECY-15-01062, "Proposed Rule: Incorporation by Reference of Institute of Electrical and Electronics Engineers Standard 603-2009, "IEEE Standard Criteria for Safety Systems for Nuclear Power Generating Stations'" and is further discussed in SECY-16-0070, "Integrated Strategy to Modernize the Nuclear Regulatory Commission's Digital Instrumentation and Control Regulatory Infrastructure."
The IAP also contains strategies for engaging external stakeholders to reach a common understanding of digital I&C regulatory challenges, priorities, and potential solutions. It consists of different modernization plans (MPs) where each MP focuses on a separate regulatory challenge associated with Digital I&C. Key topics include:
Protection Against Common Cause Failure
Digital I&C Upgrades and Replacements under Title 10 of the Code of Federal Regulations (10 CFR) Section 50.59
Commercial Grade Dedication of Off-the-Shelf Digital Equipment for Safety Related Applications
Strategic and tactical licensing process improvements
As part of resolving these regulatory challenges, the NRC staff holds frequent public and stakeholder interactions to better understand the challenges and develop proposed solutions.
Recent Guidance Updates and Plans
RIS 2002-22 Supplement 1, "Clarification on Endorsement of Nuclear Energy Institute Guidance in Designing Digital Upgrades in Instrumentation and Control Systems"
DI&C-ISG-06, Revision 2, "Licensing Process"
SECY 18-0090, "Plan for Addressing Potential Common Cause Failure in Digital Instrumentation and Controls"

Page Last Reviewed/Updated Thursday, May 23, 2019
Home
About Us
Popular Documents
Stay Connected