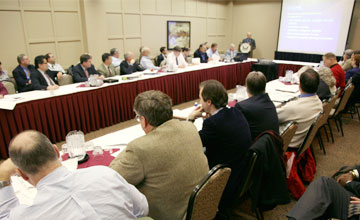 Transparency
The U.S. Nuclear Regulatory Commission (NRC) has a long-standing practice of conducting its regulatory responsibilities in an open and transparent manner, consistent with The NRC Approach to Open Government. In that way, the NRC keeps the public informed of the agency's regulatory, licensing, and oversight activities.
Transparency
promotes accountability by providing the public with information about what the Government is doing.
—
Open Gov't Directive

For additional detail, see the following topics on this page:
For an assessment of our success in this area, please see our latest Online Transparency Benchmark Report, available in Microsoft Excel format. This benchmark average report, prepared by ForeSee Results, reflects the feedback provided by our public site visitors through optional online surveys using the American Customer Satisfaction Index (ACSI) methodology.
Key Web Pages Describing the NRC's Information Dissemination Channels
For access to the NRC's vast array of information dissemination channels, see the following pages available on this site.

Information About the NRC and How it Conducts its Regulatory Activities
In addition to the NRC's Information Dissemination Channels, the following pages contribute to the NRC's transparency. These pages provide a wealth of information to broaden the public's understanding of the NRC's mission, goals, and performance, as well as access to tools and information that help licensees and private entities to do business with the agency.

Organizational Transparency and Accessibility
The NRC promotes organizational transparency and accessibility through the following pages available on this site.

NRC Transparency in Federal e-Government Web Sites
The following links to non-NRC servers and websites are provided solely as a reference for the convenience of users. NRC cannot guarantee the authenticity of documents or the validity of information obtained at these non-NRC websites. See our Site Disclaimer for more information.
The NRC promotes Government-wide transparency by supporting the following Federal initiatives (among others):

Page Last Reviewed/Updated Tuesday, August 15, 2017
Home
About Us
Popular Documents
Stay Connected