Information Digest, 2017–2018 (NUREG-1350, Volume 29, Revision 1)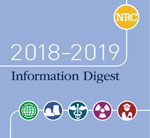 On this page:
Download complete document
Datasets – Appendices
For the most recent information for all appendices please find the online spreadsheets, go to the Dataset Index Web page.
Publication Information
Manuscript Completed: October 2017
Date Published: December 2017
Office of Public Affairs
U.S. Nuclear Regulatory Commission
Washington, DC 20555-0001
Abstract
The U.S. Nuclear Regulatory Commission (NRC) 2017–2018 Information Digest provides information about the agency and the industries it regulates. It describes the agency's responsibilities and activities and provides general information on nuclear-related topics.
The 2017-2018 Information Digest includes NRC data in the appendices and non-NRC data (i.e., IAEA, EIA, and DOE data) throughout the publication this is updated as of May 2017 with revisions in October, including data associated with maps and graphics. The next Information Digest that will reflect updated data will be published August 2019. In this edition we discontinued providing Industry Trends information because the program was discontinued. The Digest will remain an annual publication, with certain data being updated every two years. Readers will be directed to the most current and updated information, which is available online.
The NRC reviews the information from industry and international sources but does not independently verify it. The Web Link Index provides sources for more information on major topics. The NRC is the source of all photographs, graphics, and tables unless otherwise noted. All information is final unless otherwise noted. Corrections and updates will appear in the digital version of the publication on the NRC Website.
The NRC welcomes comments or suggestions on the Information Digest. To submit comments, write to the Office of Public Affairs at U.S. Nuclear Regulatory Commission, Washington, DC 20555-0001, or email at OPA.Resource@nrc.gov.
Page Last Reviewed/Updated Monday, February 12, 2018