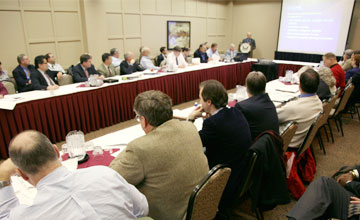 General Conference Information

Parking Information
The public parking garage located on the back side of the conference center is available for use. Please navigate to the "Travel Information" link for parking information including hours and rates.

Meeting Etiquette
As a courtesy to the speakers, presenters, and other conference participants, please note the following:
Arrive at your meeting room a few minutes before start time to help ensure the session begins on time.

Silence your electronic devices before entering the session meeting rooms.

If you need to leave the meeting room during a session, wait for a break between speakers or leave as silently as possible.

For safety reasons, at the end of each session and during breaks, leave the meeting rooms promptly so that conference organizers can perform room changes and equipment testing in time for the start of the next session.

Badge Protocol
All attendees must be registered to attend the RIC and visibly display their RIC name badge at all times during the conference. To obtain your name badge, please bring a valid form of photo identification for on-site registration check-in.
Important note: Please do not lend or give your name badge to anyone, and remember to remove it while outside the Conference Center.

Emergency Contact Cards
Safety and security are paramount to the NRC, so RIC participants will be provided with emergency contact cards during on-site registration. RIC participants are encouraged to complete the contact cards and keep them in their badge holders behind the name badge so that first responders are aware of any medical needs in the event of a health emergency.

Emergencies
In the event of a hotel emergency (i.e., fire, evacuation, etc.), the hotel staff will provide instructions on how to proceed.
In the event of a safety and security emergency, NRC Security or Montgomery County Police will provide instructions on how to proceed.
In the event of a medical health emergency, call 911 or contact an NRC or hotel staff member to contact emergency services for you.

Security
Security will be provided by Montgomery County Police, including its K-9 officers. Please report any suspicious activity to NRC or Hotel Security staff.

Security Bag Check
Bag checks will be conducted upon each entry to the Conference Center at various access points. Large items (suitcases, luggage, etc.) will not be permitted. We recommend that participants bring only what they will need for the day to expedite entry.

Internet and Print Center
The Internet and Print Center is located on the lower level of the Conference Center adjacent to the White Flint Amphitheater. The Internet and Print Center is available for use by RIC participants during registration hours.

Internet Access Area
Wireless internet access will be available to RIC participants in the White Flint Amphitheater foyer on the lower level of the Conference Center. An access code will be provided for use during regular conference hours. The access is limited to 50 people at one time. As a courtesy to all participants, we ask that you limit your time to 15 minutes so that others may partake of this service.

Reasonable Accommodations
If reasonable accommodations are necessary for you to participate in the RIC, please communicate your needs to NRC conference organizers as soon as possible. NRC conference organizers will work with NRC staff to accommodate your request and will stake any steps required to ensure that no individual with a disability is excluded, denied services, segregated, or otherwise treated differently because of the absence of auxiliary aids and services identified in the Americans with Disabilities Act.

Lost and Found
Please bring only what you will need for each day of the conference. Any items left behind will be given directly to the hotel bell stand staff. The hotel bell stand is located in the hotel lobby.

Recycling
At the conclusion of the conference, if you choose to recycle your name badge you can place it in one of the drop boxes located near the exits of the Conference Center.

Page Last Reviewed/Updated Tuesday, September 11, 2018