32nd Annual Regulatory Information Conference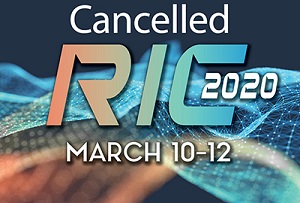 Important Notice
The Nuclear Regulatory Commission has cancelled its 32nd annual Regulatory Information Conference, originally scheduled for March 10-12 in North Bethesda, Md., due to circumstances surrounding the novel coronavirus, COVID-19. In recent days, a number of organizations and presenters have changed their attendance plans, with indications that others would reach similar decisions in coming days. The NRC expresses its regret for the inconvenience and looks forward to holding the RIC next year, in 2021.
Please bookmark this page or check back with us frequently as new and updated conference information will be posted as it becomes available.
Things You Should Know for RIC 2020:
Though #NRCRIC2020 was cancelled, you can still find presentations, speaker biographies and links to other information in the program agenda.
Future RIC Dates:
33rd Annual RIC - March 9-11, 2021
34th Annual RIC - March 8-10, 2022
Purpose of the RIC
The U.S. Nuclear Regulatory Commission's Annual Regulatory Information Conference (RIC) is the largest public meeting the agency hosts, bringing together nearly 3,000 participants from more than 30 countries representing interested stakeholders from other government agencies, industry, international organizations, and the general public. The RIC is sponsored by the Office of Nuclear Reactor Regulation and the Office of Nuclear Regulatory Research, and offers an open environment in which diverse groups of stakeholders may learn, share, and discuss information on significant and timely nuclear regulatory activities and emergent issues. The RIC offers an illustrious technical program featuring experts from across the agency as well as speakers from industry, academia, and our international counterparts. Throughout the 2 ½ day conference, attendees may participate in over 35 dynamic sessions featuring panelists addressing a broad range of topics of interest in the nuclear community. To compliment the technical program, interactive digital exhibits and live demonstrations will be on display and attendees may engage in one-on-one dialogue with exhibitors on topics of their choosing. Attendees also have an opportunity to participate in tours of the NRC Operations Center to round out their overall conference experience. Join us as we showcase the wave of innovation and transformation happening at the NRC!
Page Last Reviewed/Updated Thursday, March 12, 2020
Home
About Us
Popular Documents
Stay Connected