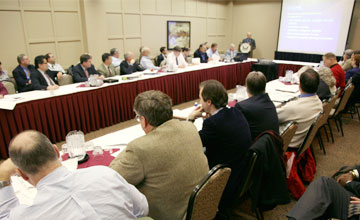 Public Meeting Schedule: Meeting Details
[
New Search
]
---
Purpose

The NRC staff will host a webinar to discuss NRC's assessment of safety performance at the Region IV plants that were in the Licensee Response Column (Column 1) of the Reactor Oversight Process Action Matrix in 2020. Following the presentation, the NRC will respond to questions specific to the safety performance of the stations and the NRC's role in ensuring safe plant operations.

Meeting Feedback

Meeting Dates and Times

05/13/21
6:30PM - 8:30PM EST



Webinar

Webinar Link:https://usnrc.webex.com/usnrc/onstage/g.php?MTID=e2018070528fff1301d6ff53ec036aa6f
Webinar Meeting Number:N/A
Webinar Password:N/A


Contact

Ami Agrawal
(817) 200-1491



Participation Level

Information with Q&A

NRC Participants

Neil Day, Resident Inspector, Comanche Peak Nuclear Plant, Region IV
Lindsay Merker, Resident Inspector, Columbia Generating Station, Region IV
Ayesha Athar, Resident Inspector, Diablo Canyon Power Plant, Region IV
Don Krause, Senior Resident Inspector, Diablo Canyon Power Plant, Region IV
Jeff Josey, Chief, Reactor Projects Branch A, Region IV
Neil O'Keefe, Chief, Reactor Projects Branch B, Region IV
Jason Kozal, Chief, Reactor Projects Branch C, Region IV
John Dixon, Chief, Reactor Projects Branch D, Region IV


External Participants

Docket Numbers - Facility Names

05000275 - Diablo Canyon 1
05000298 - Cooper
05000313 - Arkansas Nuclear 1
05000323 - Diablo Canyon 2
05000368 - Arkansas Nuclear 2
05000382 - Waterford 3
05000397 - Columbia Generating Station
05000445 - Comanche Peak 1
05000446 - Comanche Peak 2
05000458 - River Bend 1
05000482 - Wolf Creek 1
05000498 - South Texas 1
05000499 - South Texas 2
05000528 - Palo Verde 1
05000529 - Palo Verde 2
05000530 - Palo Verde 3


Related Documents

ML21119A356 - 05/13/2021 Public Webinar to Discuss the NRCs 2020 Annual Assessment of Safety Performance at Arkansas Nuclear One, Columbia, Comanche Peak, Cooper, Diablo Canyon, Palo Verde, River Bend Station, South Texas Project, Waterford, and Wolf Creek

ML21116A562 - Column 1 Region IV Combined 2020 EOC Public Meeting Notice.

ML21132A275 - NRC's Region IV End of Cycle 2020 Presentation

ML21138A860 - Audio Recording of Region IV 2020 Annual Assessment Meeting for Column 1 Plants.



Teleconference

Bridge Number: (800) 369-1159
Passcode: 6818485#

Comments

This is a virtual public meeting where participants will be able to view the presentations using the WebEx computer platform, and meeting audio will be accessed by telephone by dialing the bridge number listed. All meeting participants must register at the webinar internet address provided in order to view the presentations on WebEx. After registering, a confirmation email will be sent with details for joining the webinar. Meeting audio will not be available on the WebEx platform; participants must connect to the teleconference bridge to hear audio and to ask questions.